Art After Dark / Open Studio: May 14
Live Virtual Program
Open Studio: Khinuu Nefer
This program will be presented live on Zoom. Please RSVP for the link to participate.
Open Studio invites you to connect with artwork through creative expression!
Featuring guest teaching artist Khinuu Nefer
This month features a movement workshop inspired by Man Jumping, Pole Vaulting, 1884-1886 by Eadweard J. Muybridge, a photograph currently on view as part of WHEN? A Brief History of the Relationship between Time and Photography.
Khinuu Nefer, professional West African Dancer and Director of Afrique Ngozi Dance and Drum, hosts this traditional West African Dance workshop via Zoom. This workshop is designed to accommodate all dance levels and all movements can be modified to accommodate participants.
Free
About the Artist:
Khinuu Nefer is the Director of Afrique Ngozi Dance and Drum Inc. Established in 2015 the organizations mission is to preserve the African Arts through dance. Afrique Ngozi Dance and Drum Inc also offers a Children's Performing Arts company for youth ages 5-15.
For more information about Afrique Ngozi Dance and Drum:
Email: [email protected]
Facebook: Afrique Ngozi Dance and Drum Inc
Instagram: Afrique_Ngozi
About Open Studio:
Experienced and emerging artists from South Florida open their studios for interactive workshops inspired by works of art on view at the Norton. Learn practical and expressive skills from guest teaching artists at a fun, collaborative virtual experience.
Each session features a new work of art, a new guest teaching artist, and a different discipline: from visual arts to creative writing, music, and dance.
Open Studio is presented every second Friday of the month via Zoom. This is an open platform where participants are encouraged to ask questions and share their work!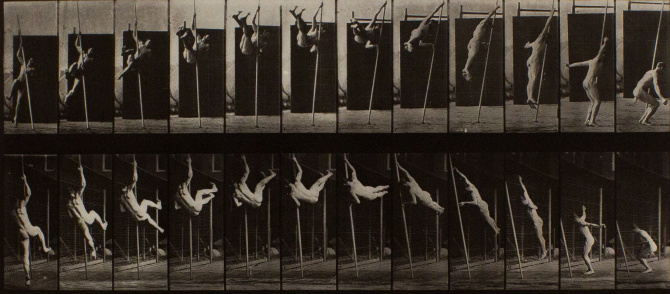 Eadweard J. Muybridge (English, active United States, 1830-1904) Man Jumping, Pole Vaulting, 1884-1996 Collotype 7 x 15 3/4 in. (17.8 x 40 cm) Gift of Robert A. Lewis, 2012.164
ATTENDING THIS EVENT?
Register: This program is free and will stream Zoom. After registering, you will receive an email confirmation. A reminder email will be sent before the virtual program, along with a link to participate live.
Give back: This program is free. The Norton relies on your support to present its programs and exhibitions. Please consider contributing.