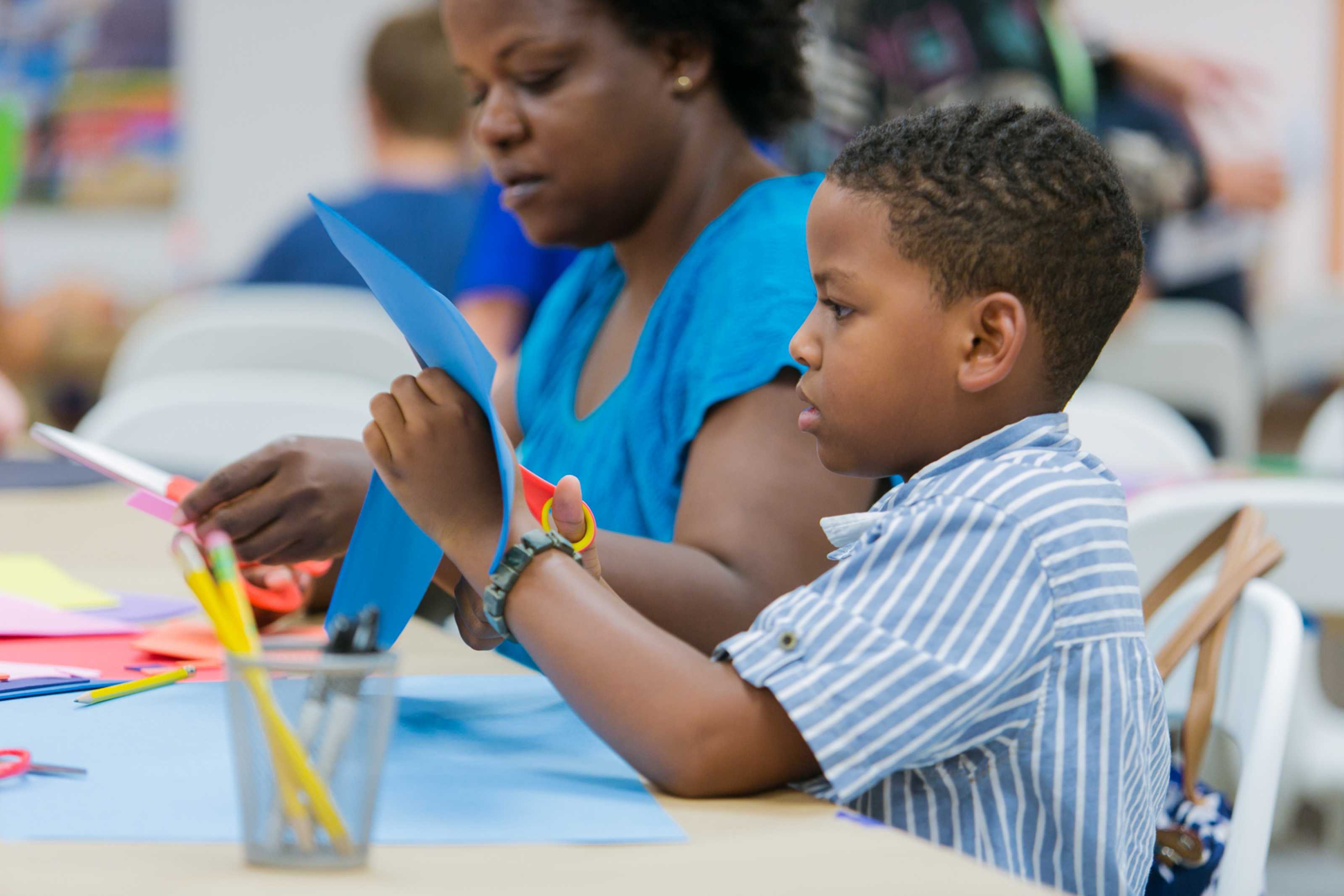 Make art a family affair!
Children ages 5-12, and their accompanying grown-ups, participate in a gallery experience, followed by a related art workshop. 
Family Studio From Home x Chinese New Year
Friday, February 26 / 5PM-6PM
VIRTUAL |Chinese Paper Cutting
Friday, February 26 / 5pm
Happy Chinese New Year!
Celebrate the Chinese New Year in this special Family Studio program. We will explore the Museum's Chinese Collection, then we will create a reflective Chinese Paper Cutout with the popular character called Fú (福), which is often placed above doorways during celebrations so that "good fortune" can bless all who pass through.
$3 Per Family / Members Free
Red Construction paper
Pencil
Black Marker or Paint
Scissors
Gold Marker or Crayon (optional)
About Chinese Paper Cutting
Chinese paper cutting or 剪纸Jiǎnzhǐ is a traditional folk-art form used in many festivities in China, especially during the Chinese Lunar New Year. Paper was invented by Cai Lun in about 105.
As paper became a widely popular material, the art of paper cutting grew into one of the most important types of Chinese folk art. During the New Year, cut paper, also known as cut-outs, are often used to decorate doors and windows. Families usually glue cut-out paper to the exterior of windows. The light from the inside the homes, shines through cut-out figures in the windows, illuminating the space outside like a lantern. Red paper is often used for the cut-outs. In Chinese culture, the color red is often associated with happiness.
How to Attend
Classes are live in-person and are limited to 5 families.
$3 Per Family
Once you register your family, you will receive a confirmation email.
Accessibility
The Norton works to ensure that programs are accessible to all visitors. Bilingual, American Sign Language interpreters and live captioning are available by request with at least two weeks advance notice before your registration. To place a request, please contact us at [email protected]
Support for Family Studio was provided by The Andrea and Charles Bronfman Fund for Families, The Sarah Vierck Mettler Family Fund, and The Samuel Rosenthal Foundation Endowment for Education and Outreach Programs.