Juneteenth Family Celebration Day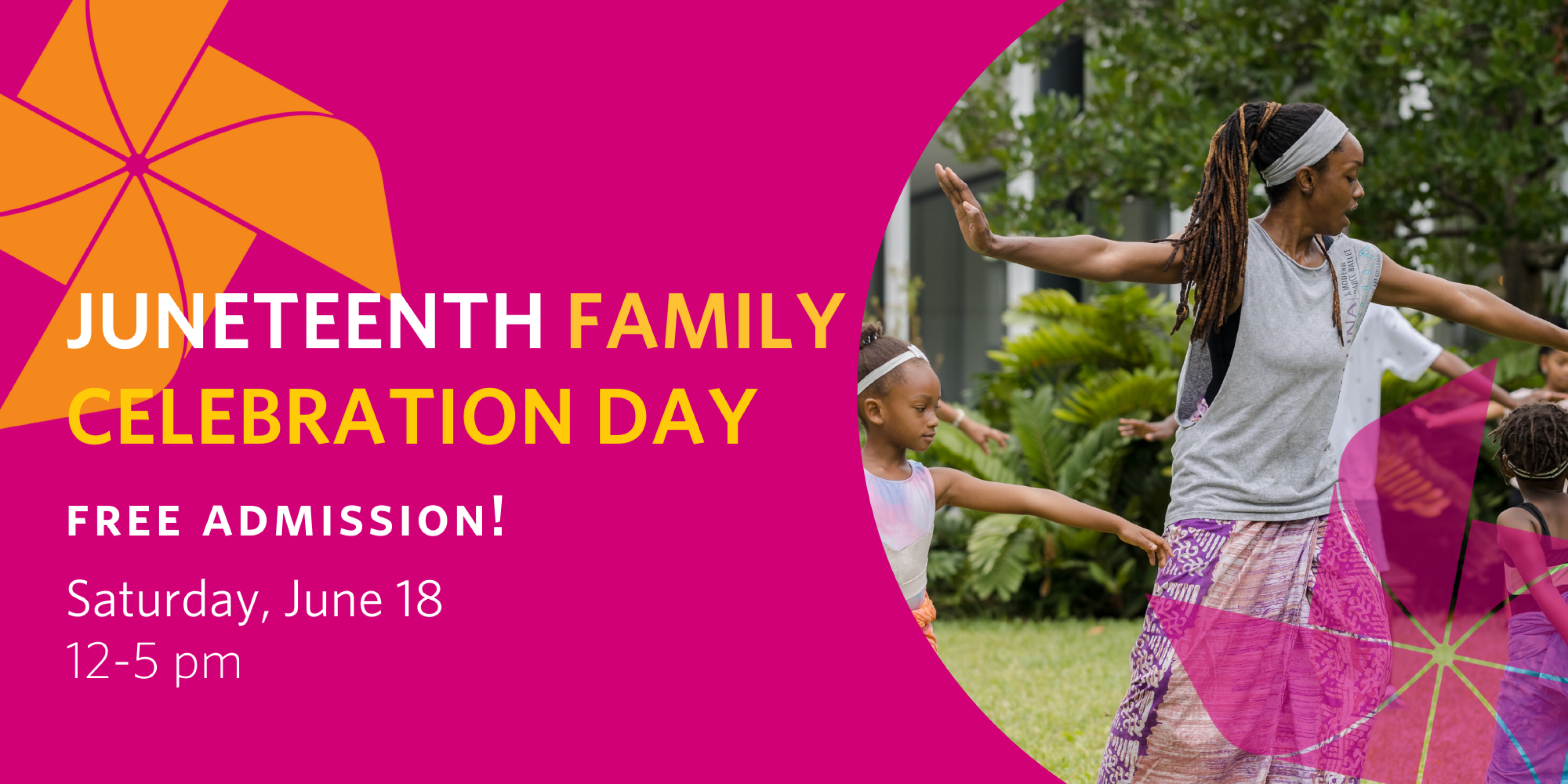 Juneteenth Family Celebration Day
Saturday, June 18 / 12-5 pm
Bring family and friends to the Juneteenth Summer Festival and commemorate the day the announcement of the abolition of slavery was made in Texas in 1865.
This intergenerational event celebrates freedom and spotlights the African American experience with live musical performances, dance, gallery talks on art by African American artists, storytelling, and art-making activities.
The programming for this event was organized by the Norton Museum of Art in conjunction with the 2022 Juneteenth Committee. The Norton Museum would like to acknowledge and thank the Committee members: Anthony Burks, Sr., Tiffany Faublas, Karen Jefferson, Zakiya Markland, Tiera Ndlovu, Wayne Perry, Gloria Scott, Trina Slade-Burks, Ericka Squire, and Sybille Welter.
This is a FREE program!
Opening of "We Made It!" The Norton's Afterschool Arts Annual Exhibition

Each year, this exhibition represents the culmination of the Museum's eight community partnerships. The exhibit highlights the creative achievements of students in the Norton Afterschool Arts Outreach program, a creative youth development program in partnership with Farmworker Coordinating Council, Florence De George Boys & Girls Club, Gaines Park Community Center, Highridge Family Center, Max M. Fisher Boys & Girls Club, Police Athletic League, Rinconcito del Sol, The Salvation Army Northwest Community Center.

2nd Floor Hearst Center

All Day

Family Tour

Join one of the Museum's fine docents for a family-friendly interactive tour on works by Black artists.

In the Galleries

11:30am

Host Wayne "Mister Trombone" Perry

Mister Trombone kicks off the event and provides entertainment throughout the festival day!

In Heyman Plaza

Beginning at 12:00pm

Juneteenth Kickoff performance by Faith's Place Center for Arts & Education

With Dancers, Marching Band, and Drumline!
For more information on Faith's Place, click here

In Heyman Plaza

12-12:30pm

Live Art-making

South Florida visual artists, such as Anthony Burks, Sr., Tracy Guiteau, and others, will be live painting masterpieces in our Central Courtyard!

In the Central Courtyard/Artist's Lounge

12-4pm

Black-Owned Businesses Pop-Up

Vendors include Kianga Jinaki, All About Us, The Gift Genie, Helen's Fire Sauce, and select merchandise from The Norton's Store!

In the Central Courtyard/Artist's Lounge

12-4pm

The Norton Restaurant Pop-up

Offering small bites and refreshments

In the Great Hall

12-4pm

Spotlight Talks

Enjoy 15-minute talks and discussions led by South Florida artists and educators on works in the collection by Black artists.

Featured Speaker: Brian Knowles, Manager, African, African American, Latino, Holocaust, and Gender Studies at the School District of Palm Beach County

In the Galleries

12:30-12:45pm

Open Studios in Classrooms 1 & 2

Join us for drop-in style art activities, led by South Florida artists, for all ages and artistic levels!

2nd Floor Hearst Center

12:30-4:30pm

Soul Rebel: A Musical Interview of Bob Marley

Join artist Sodapop for an interactive interview of the musical messenger, Bob Marley. Audience members will select topics/questions to ask Sodapop, who will answer as Bob Marley has answered, either through speech, music or combination of the two. This intimate intergenerational and interactive performance will allow attendees to explore the mindset of a freedom fighter on this day of celebrating freedom.

In the Great Hall

12:45-1:45pm

Spotlight Talks

Enjoy 15-minute talks and discussions led by South Florida artists and educators on works in the collection by Black artists.

Featured Speaker: Anthony Burks, Sr., visual artist. His work is currently on view at the Norton Museum of Art

In the Galleries

1-1:15pm

DJ ReRe

International, award-winning DJ ReRe will activate the Artists' Lounge with energetic and dynamic music!

In the Central Courtyard/Artist's Lounge

1-3pm

Dancing the Rhythm: African Dance and Drumming

In Partnership with The Natural Movers Foundation and Livin the Rhythm

Come join us as we dance to the rhythmic vibration of the drum. This session will include both an Umfundalai (African) dance workshop led by Ericka Squire and a rhythmic drumming workshop led by Abasi Hanif. All ages are welcome.

Suggested attire: a lapa (a piece of fabric that can be worn around the waist) or shakatoes (loosely fitted pants)

In the Great Hall

2-2:45pm

Highlights Tour

Learn more about art in the Museum on a 50-minute tour of the five collections.


In the Galleries


2:30-3:20pm

Spotlight Talks

Enjoy 15-minute talks and discussions led by South Florida artists and educators on works in the collection by Black artists.

Featured Speaker: Shawn Henderson, artist and educator

In the Galleries

3-3:15pm
3-4pm

Spotlight Talks

Enjoy 15-minute talks and discussions led by South Florida artists and educators on works in the collection by Black artists.

Featured Speaker: Trina Slade-Burks, President and Founder of No More Starving Artists Foundation

In the Galleries

3:30-3:45pm

Closing Performance with Sunshine Junkanoo Band

Dance along and join a Junkanoo parade in the Goergen Garden! This rich Bahamian tradition combines live drums, bells, and whistles, rhythmic dances and vibrant, colorful costumes.

4-4:30pm