Saskia Spender, President of The Arshile Gorky Foundation and granddaughter of the artist, discusses Gorky's art and career. She also introduces the Foundation established to sustain Gorky's ongoing artistic influence and legacy, and support efforts to showcase his art. Ellen Roberts, Harold and Anne Berkley Smith Curator of American Art, leads this conversation.
This talk is offered in conjunction with the special loan of a major painting by Arshile Gorky, Child's Companions, 1945. The painting integrates the artist's study of nature as well as modern art and Islamic calligraphy. Gorky's work is on loan to the Norton Museum of Art from Art Bridges, a program conceived by arts patron Alice Walton. Since 2017, Art Bridges has been creating and supporting programs that expand access to American art across the nation. The Arshile Gorky Foundation was established in June 2005 by the artist's widow, Mougouch Fielding (Agnes Magruder Gorky, 1921-2013), to further the public's appreciation and understanding of the life and art of Arshile Gorky.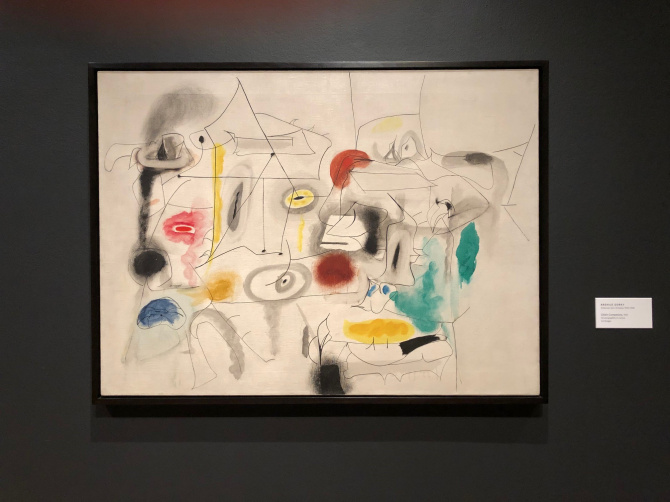 Arshile Gorky (ca. 1902 - 1948) Child's Companions, 1945 Oil and graphite on canvas 34 1/4 in. × 46 1/4 in. × 1 in. (87 × 117.5 × 2.5 cm) Framed: 35 3/4 in. × 47 3/4 in. × 2 in. Art Bridges AB.2016.6
ATTENDING THIS EVENT?
Register: This program is free and will stream live via Youtube and Facebook. After registering, you will receive an email confirmation. A reminder email will be sent 24 hours before the virtual program, along with a link to watch live.
Watch Later: This program will be recorded and will be available here soon after.
Give back: This program is free. The Norton relies on your support to present its programs and exhibitions. Please consider contributing.
About Saskia Spender
Saskia Spender is the President of The Arshile Gorky Foundation. She is also the granddaughter of Arshile Gorky. Spender is a ceramicist and lives in London.