Friday evenings at 5:30 and 6:30 p.m.
5:30pm | 15 minutes FREE

Fridays and Saturdays
10:30am | 30 minutes FREE
Sculpture Garden Tours
Explore sculptures in the garden with Museum docents on Fridays and Saturdays at 10:30 a.m. Works by major artists including Fernand Leger, Keith Haring, Jenny Holzer are on view, as well as a very special long-term loan, a monumental work by Charles Ray entitled Huck and Jim.
The 30-minute tours beat the heat and provide morning guests with introductions to varied modern and contemporary sculptures, as well as aspects of the Foster + Partners' expansion and the original 1941 Museum façade.
Tours are open to all ages and are free with Museum admission, but limited to 12 participants to allow for social distancing.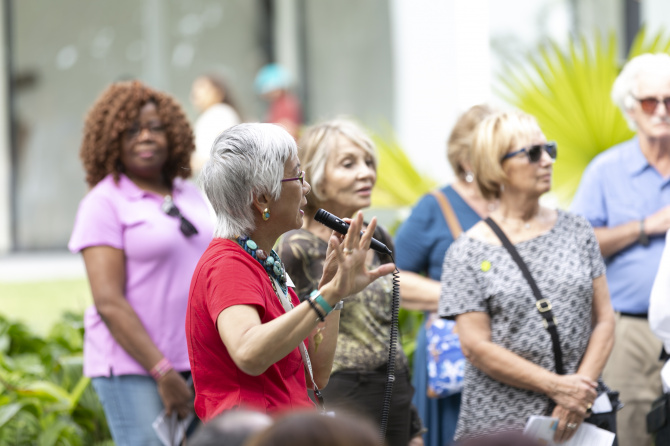 Docent Vivian Chen leading a tour in the Sculpture Garden
Spotlight Tours
As the Norton resumes in-person programs at Art After Dark on Friday evenings, join Museum docents for short discussions on individual artworks in the Garden and outside the Museum at 5:30 and 6:30 p.m. From Oldenburg and van Bruggen's Typewriter Eraser, Scale X to Paul Manship's equally iconic Diana and Actaeon on the Museum's 1941 façade, there are so many extraordinary artworks to discover and enjoy one by one, each Friday night through September 3.
Available Tuesdays and Fridays at 11 a.m.
Groups of up to 50 guests may enjoy virtual tours of the Museum's collections on Zoom including discussions with Norton Docents.
Tours for up to 25 guests are $40 per group. Tour groups for up to 50 guests are $80 per group. The minimum group size for scheduling a Virtual Tour is 12 guests. The tour must be booked and a 50% deposit must be received at least 3 weeks before the tour date.
Great Work! The Norton Museum of Art Collection
This tour provides a wonderful way for a group to get to know the Museum's founders, Ralph and Elizabeth Norton, the story of the Museum they established 80 years ago, and the remarkable, diverse collection that has grown to over 8,000 objects including ancient Chinese jades and bronzes, artworks by Gauguin, Picasso, O'Keeffe, Pollock and contemporary pieces by leading artists such as Jose Bedia, Nick Cave and Mickalene Thomas.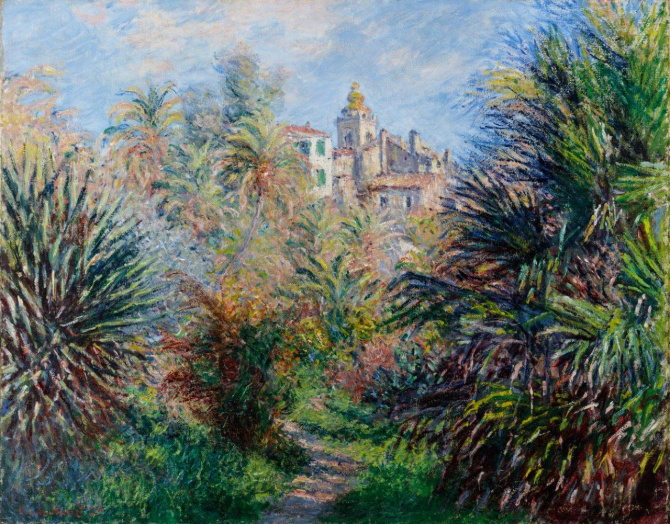 Claude Monet (French, 1840-1926), Gardens of the Villa Moreno, Bordighera, 1884 (detial)
For more information, or to book a tour, email [email protected], or call (561) 832-5196 x1123.