Private tours are a great way to experience the extraordinary permanent collections and special exhibitions of the museum with the expertise of a museum docent. These tours are offered year-round.
At the Dawn of a New Age: Early Twentieth-Century American Modernism
$28 per person / Available March 24, 2023 - July 16, 2023
This special exhibition showcases art produced between 1900 and 1930 by well-known American modernists and their now largely forgotten, but equally groundbreaking peers. On docent-led tours guests will see works by beloved artists including Georgia O'Keeffe and Marsden Hartley, while also discovering works such as Agnes Pelton's vivid, transcendent landscapes, Richmond Barthé's and Nancy Elizabeth Prophet's African-inspired sculptures, and Yun Gee's colorful depiction of San Francisco's Chinatown, among many others. Tours of this exciting exhibition, drawn from the collection of the Whitney Museum of American Art, will introduce artists and narratives that redefine the origins of modern art in the U.S., presenting this pivotal creative movement in its full diversity and complexity.
Permanent Collection Tours (available year-round)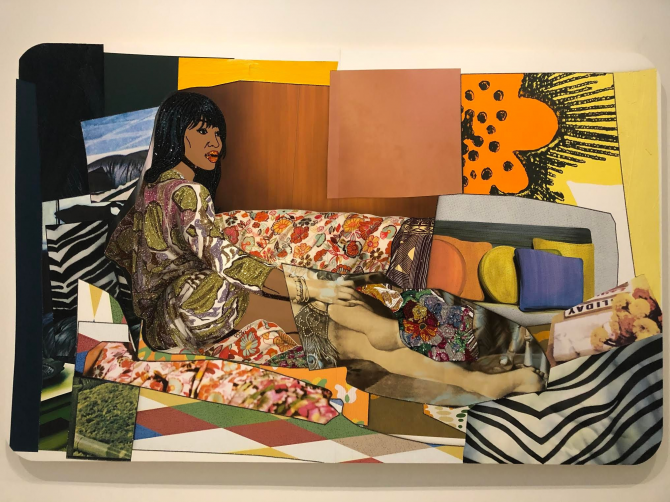 Mickalene Thomas (American, born 1971), "Naomi Looking Forward #2," 2016, © 2018 Micklene Thomas / Artists Rights Society (ARS), New York
Great Work! The Norton Museum of Art Collection
$22 per person
This tour provides a wonderful way for a group to get to know the Museum's founders, Ralph and Elizabeth Norton, the story of the Museum they established 80 years ago, and the diverse collection that has grown to over 8,000 objects including ancient Chinese jades and bronzes, artworks by Gauguin, Picasso, O'Keeffe, Pollock and contemporary pieces by leading artists such as Keith Haring, Njideka Akunyili Crosby and Mickalene Thomas.
Artists, Muses, Patrons: Women in the Arts
$22 per person
Through the Recognition of Art by Women series of exhibitions (RAW), the Norton Museum of Art has celebrated the achievements of contemporary women artists. However, amazing stories of women in the visual arts - as artists, patrons and as muses - appear at every turn. From ancient Chinese heroines and Dutch patrons to leaders of the Harlem Renaissance and the avant-garde, explore remarkable artworks and the artists who created them.