Nuestra Cultura Community Day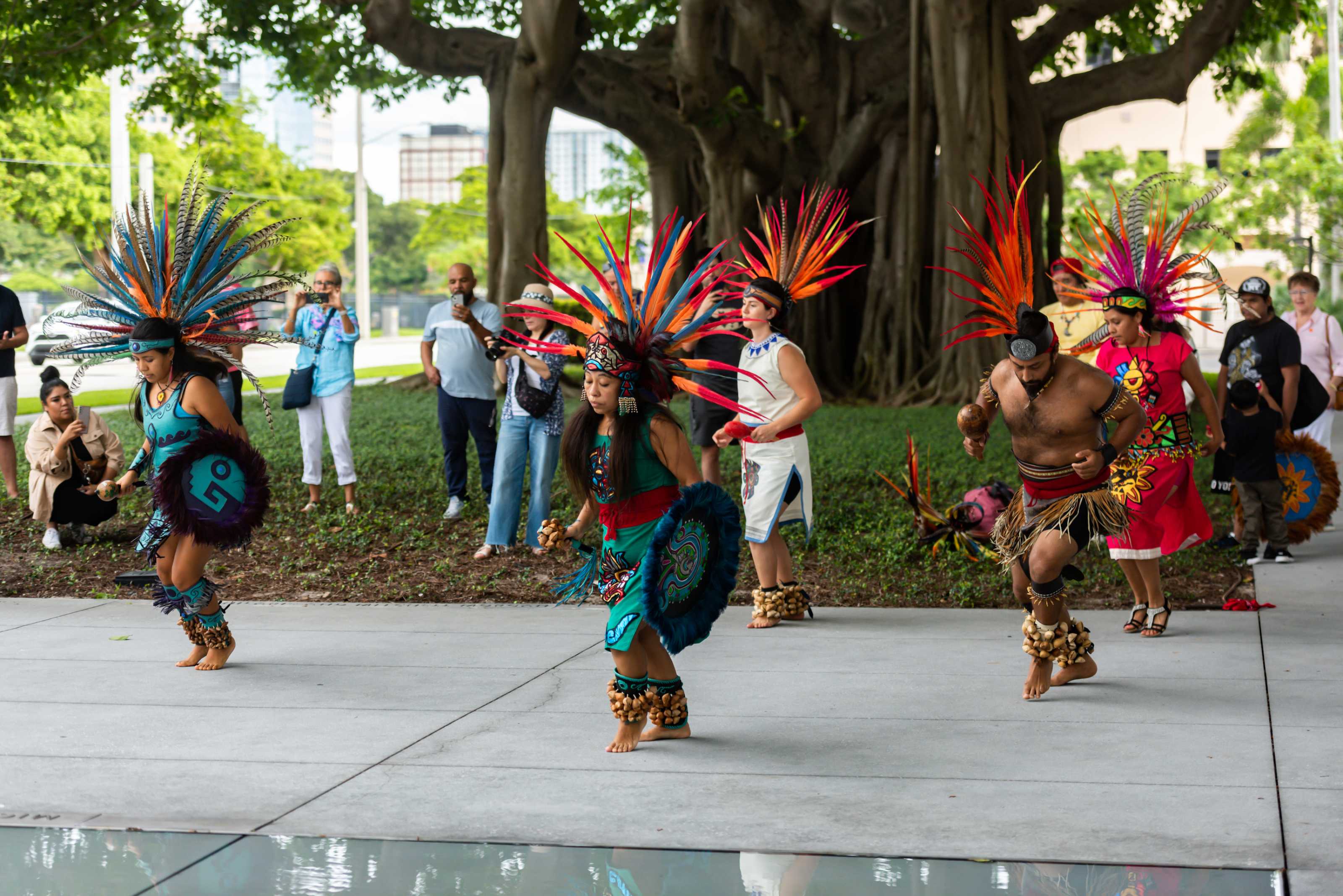 Celebrate the rich, diverse cultures and traditions across South America, Central America, Mexico, and the Caribbean during this community day at the Norton. Enjoy art workshops, music, dance, and Spanish-language tours, and connect with local organizations and food in honor of Hispanic Heritage Month. For a full schedule of programs, visit norton.org after September 18.
This is a FREE program
This program was made possible by the generosity of JPMorgan Chase & Co.
LIVE MUSIC / Mariachi de mi Tierra

Mariachi de mi Tierra has played traditional Mexican Mariachi for over 25 years.

Mariachi de mi Tierra contan con más 25 años de tradición Mexicana Mariachi.

Mariachi de mi tierra west palm beach - YouTube

Starts on Heyman Plaza

12-12:50pm

SPANISH EXPRESS DOCENT TOUR / with Cynthia Dillon

Join Docent Cynthia Dillon for a Spanish speaking tour of our collection.

Meet in Great Hall

12-12:30pm

OPEN STUDIO / with guest artist Ely Bellorin

Weave an Ojo de Dios with Guest Teaching Artist Ely Bellorin.

Classroom #1

12:30-4:30pm

OPEN STUDIO / with artist Lymari Cuevas

Join Resident Teaching Artist Lymari Cuevas and create a Peruvian Cat Bag based on traditional Inca Design.

Classroom #2

12:30-4:30pm

FILM / Bomba on the Beach

Watch PBSKids' Alma's Way as Alma and her family travel to Puerto Rico in "Bomba on the Beach". Perfect for families.

Korman Room

12:30-1pm

LOTERIA / Classic Hispanic game

Enjoy this classic Hispanic game of chance to win prizes! Also at 2-2:30 pm, 3-3:30 pm, and 4-4:30 pm

Great Hall

1-1:30pm

SPOTLIGHT TOUR

Join our Docents to learn more about a specific piece in our collection.

Meet in Great Hall.

1-1:15pm

DANCE CLASS / with Jan Clancy

Join dance instructor Jan Clancy and learn some basic bachata, merengue, and salsa moves to spice up your dance.

Korman Room

1:15-1:45pm

PIÑATA PARTY / by Ines Evangelista

Bring the kids for the piñata party made by Ines Evangelista.

Goergan Garden

1:25pm

SPOTLIGHT TOUR

Join our Docents to learn about a specific piece in our collection.

Meet in Great Hall

1:30-1:45pm

LIVE MUSIC / Inca Spirit

Inca Spirit was formed in Miami twelve years ago. The name carries the ancestral heritage of Native American peoples, not just the Incas. The Inca name were chosen for their spiritual values and knowledge of the earth and cosmos. These musicians carry the spirit of ancient peoples. They have previously played for over two decades with other groups in New York City, Illinois, Colorado, Washington, California, Europe and Peru.

Goergan Garden

1:30-3pm

LECTURE

During Nuestra Cultura Community Day and the opening day of the special exhibition Artists in Motion, Allison Unruh, Consulting Curator for the exhibition, will discuss artists in the exhibition including Cézanne, Van Gogh, Modigliani, and many others, in light of the themes the exhibition explores, such as the artists' travels, the communities they formed, and the influences they shared.

Space is limited; online registration required.

Cost: Museum Admission/Members FREE

https://www.norton.org/events/public-lecture-artists-in-motion-impressionist-and-modern-masterpieces-from-the-pearlman-collection-10-14-2023

Stiller Auditorium

2-3pm

SPANISH HIGHLIGHTS TOUR / with Cynthia Dixon

Join Docent Cynthia Dixon for a highlights of the collection in Spanish.

2:30-3pm

DANCE CLASS / with Jan Clancy

Join dance instructor Jan Clancy and learn some basic bachata, merengue, and salsa moves in time for the musical performance!

Korman Room

2:45-3:15pm

PIÑATA PARTY / by Ines Evangelista

A second chance to enjoy the specially made piñata by Ines Evangelista.

Goergan Garden

3:10pm

FILM / Bisabuela's Birthday

Watch PBSKids' Alma's Way as Alma and her family travel to Puerto Rico in "Bisabuela's Birthday". Perfect for families.

Korman Room

3:30-3:50pm

MUSIC AND DANCE / Luna Cale Flamenco

Luna Cale is a dance company that creates challenging, provocative, innovative and original works of flamenco with the dual goals of preserving and strengthening the tradition and empowering women on stage as well as in life. Our work is deeply steeped in rigorous study of the Old World culture of flamenco baile (dance), cante (deep song), and toque (guitar), while simultaneously including New World jazz dance, ballet, and Latinoamerican rythms.

Goergan Garden

Luna cale es una compañía profesional de baile creada con el objetivo de no sólo transmitir y propagar el Flamenco como arte y lenguaje universal a traves de su baile, cante y música, sino también el de fortalecer y celebrar el rol de la mujer en el escenario y en la vida misma.

Nosotras creemos que ese espíritu universal del Flamenco, por su carácter multicultural, tiene el poder de construir puentes entre culturas e inspirar a públicos de cualquier origen. Su Directora Artística, Alessandra Torres, conduce esta compañía de enérgicas y talentosas bailaoras y músicos en producciones de alto contenido artístico y expresivo.

Goergan Jardin

3:45-4:30pm

CAFECITO / Coffee & pastelitos

Enjoy coffee and pastelitos from The Restaurant

Great Hall

All day

QUICK SNACKS / Empanadas, tamales and treats

Grab an empanada, tamale, or other treat created by The Restaurant and wash it down with Latin American beers and special cocktails.

Colonnade

All day