VIRTUAL Art After Dark : March 12
Live Virtual Program
Story Slam: The Quiet Undoing
Hosted by Caren Neile
Tell a true story inspired by The Quiet Undoing, 2020 by María Berrío, and connect with a Zoom full of people. Three Storytellers will receive prizes!
Story Slam is a friendly, no-pressure way to connect with others through true-life storytelling. You can participate as a Storyteller, a Judge, or a member of the Audience. Storytellers can share a true story about something from their life in five minutes. Tell the story you are meant to tell, straight from the heart! No reading, no memorization, no poetry, and no essays, please.
Judges cannot be Storytellers; judges will be selected from the Audience to award the winners of the Story Slam.
The Audience is invited to interact with the host, Caren Neile, and Storytellers throughout the live program using Zoom's chat feature and the Reactions button.
Free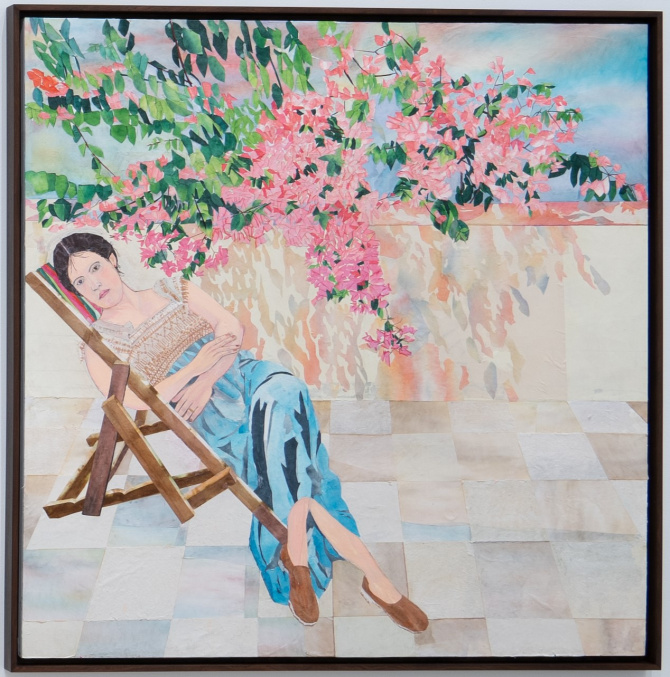 María Berrío (American, born Colombia, 1982) The Quiet Undoing, 2020 Collage with Japanese paper and watercolor on canvas 84 × 84 ½ in. (213.4 × 214.6 cm) Purchase, R. H. Norton Trust, 2021.27 © María Berrío
How do I watch?
Anyone can watch! Please RSVP as part of the Audience for the link to watch.
How can I tell a story?
The first ten people to RSVP as a Storyteller will be called on to present their story. Anyone beyond the first ten will be put on a wait list.
Those who do not pre-register to be a Storyteller can also sign up during the event if there are any openings.
Who judges the stories?
Judges are selected from the Audience. Storytellers cannot be Judges. The Judges will use Zoom's Chat feature to privately rank and pick the best story of the night. Judges are looking for authentic and compelling stories.
About the Host:
Caren S. Neile, Ph.D., MFA, has taught storytelling studies for the School of Communication & Multimedia Studies at Florida Atlantic University since 2000. A performance storyteller, she has worked in six countries, including as a Fulbright Senior Specialist in Austria and Israel, and as a visiting professor in Poland. Dr. Neile co-produces and co-hosts The Public Storyteller segment on South Florida public radio WLRN, as well as numerous local storytelling events.