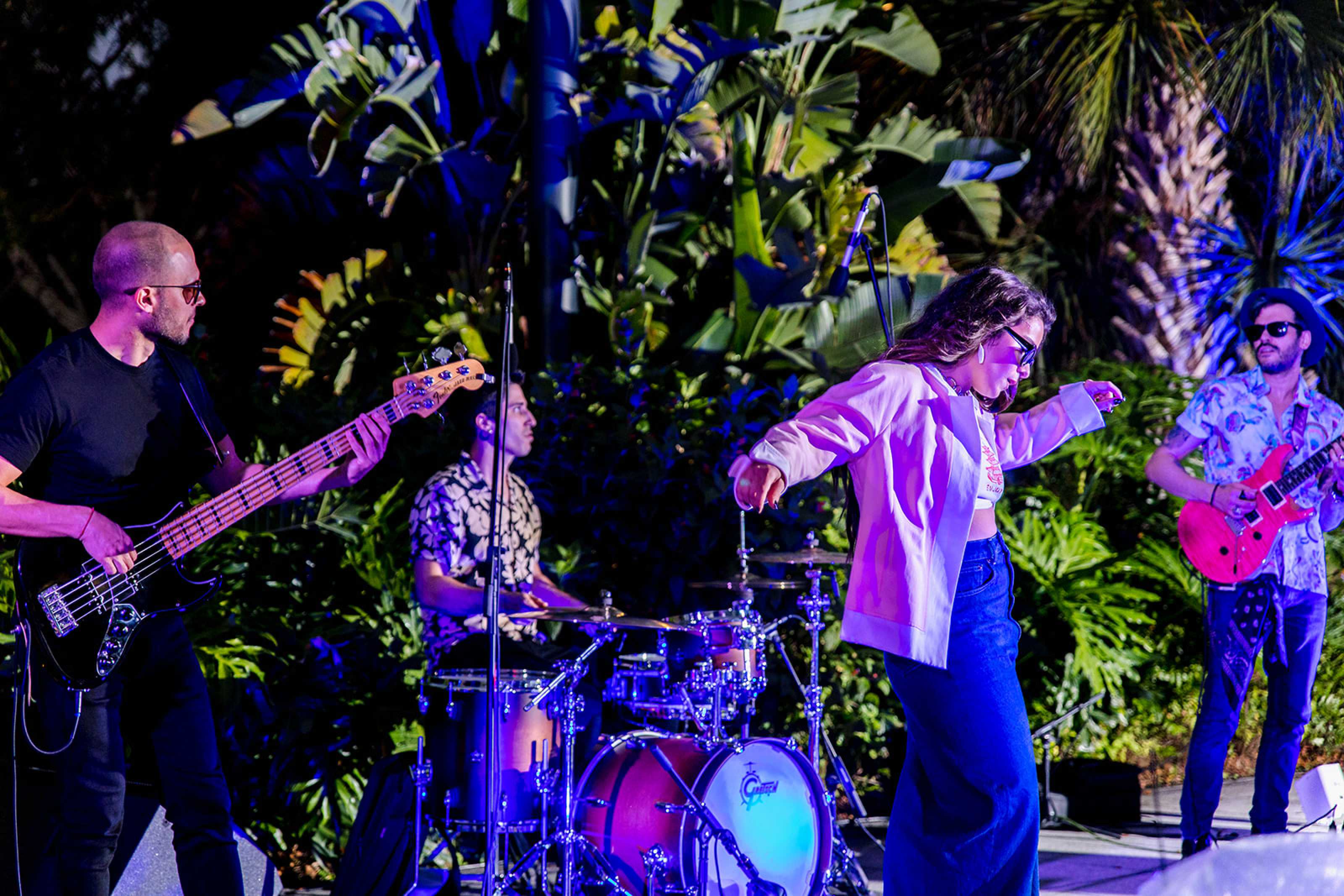 A New Experience Every Friday Night!
Enjoy an eclectic mix of live performances, film screenings, workshops, tours, and more!
EVERY FRIDAY, 5:30 & 7:30 PM
Docent-led Tours (30 min) Explore great works in the Norton's collection led by one of the Museum's fine docents.
EVERY FRIDAY, 6 – 9 PM
Open Studio: Art Workshops Join local teaching artists as they lead drop-in style art-making sessions. All ages and experience levels welcome. Materials included.
EVERY FRIDAY, Live Performances
Enjoy live performances every Friday including live music, dance, spoken word, and more! Check our website weekly for updates.
First Fridays of the Month, 7 pm / Jazz Fridays
This popular monthly series features performances by some of South Florida's best jazz musicians!
Third Fridays of the Month, 8 pm / Artist Tour
South Florida-based artists lead informal, 30-minute gallery talks about works in the Norton's collection and special exhibitions.
Art After Dark
Friday, February 24 / 5PM-10PM
Join a tour!

Docents discuss works in the galleries and special exhibitions.

Pick up your tour wristband at the Reception Desk one hour before the tour.

5:30-6pm

Caricatures by Angela Wilkins

Angela is a caricature and portrait sketch artist based in South Florida. Her quick and flattering illustrations are the perfect memento to take home!

5:30-7pm

Lecture: Randall Griffey on Alice Neel

In celebration of Alice Neel's painting Virginia Miller, 1978, currently on loan and coming soon to the Norton's permanent collection, Dr. Randall Griffey, Head Curator at the Smithsonian American Art Museum, will offer a presentation about the life and work of Alice Neel. Prior to joining the curatorial staff at the Smithsonian, Griffey was the Curator of Modern and Contemporary Art at the Metropolitan Museum of art from 2013 to May of 2022. During his tenure at the Met, Griffey co-curated the exhibition Alice Neel: People Come First which opened in 2021.

Space is limited, and tickets are available at the Reception Desk starting one hour before the program.

Cost: Museum Admission / Members FREE

6-7pm

Open Studio: Tiny Soundsuits with Jose R. Mendez

Inspired by Nick Cave's Soundsuit series, create a miniature Soundsuit using pom poms, pipe cleaners, embroidery thread, and more, and learn about the meaning behind the vibrant, whimsical humanoids.

For all ages and experience levels.

All materials are included.

6-9pm

Live Music / Von Archer

Yvontrell Archer, better known by his stage name, Von Archer, is an American singer, rapper, songwriter, and fitness/bodybuilding champion. The creative artist has appeared on BET and caught the attention of industry executives with his 'out of the box' live performances. With a message of excellence and evolution at the core of his brand, Archer uses his music to push the culture forward through motivation.

I define evolving as maturing, being exposed to different things, being uncomfortable and growing into your own person, and trying new things. I want to inspire people to take care of themselves mentally and physically. – Von Archer




Where to find Von Archer:
Instagram: @von.archer
Von Archer on Apple Music and Spotify

7:30-9pm

Join a tour!

Docents discuss artworks in the Norton's collection. Pick up your tour wristband at the Reception Desk one hour before the tour.

7:30-8pm
Hours: The museum is currently open to the public until 10 pm on Friday nights.
Entry: Please note daily capacity is limited and advance, timed-ticket reservations are encouraged to help ensure a safe and enjoyable visiting experience for all. To attend in-person Art After Dark programs, reserve a timed ticket.
How to get here: The Norton Museum of Art is located at 1450 S. Dixie Hwy., West Palm Beach, FL 33401. For more information, click here.
Parking: Parking is available in the Norton's main parking lot at 1501 South Dixie Highway, immediately across the street from the Museum. Parking is $5 per car, per day. Norton Members park for free.
Food and drink: The Restaurant at the Norton is fully operational, and seating available outdoors with a view of our Sculpture Garden and in the Restaurant. Along with great food, The Restaurant can be enjoyed with creative cocktails, wine, or champagne. Reservations recommended at OpenTable.com
Admission: Art After Dark is included with museum admission. As always, members enjoy free museum admission.