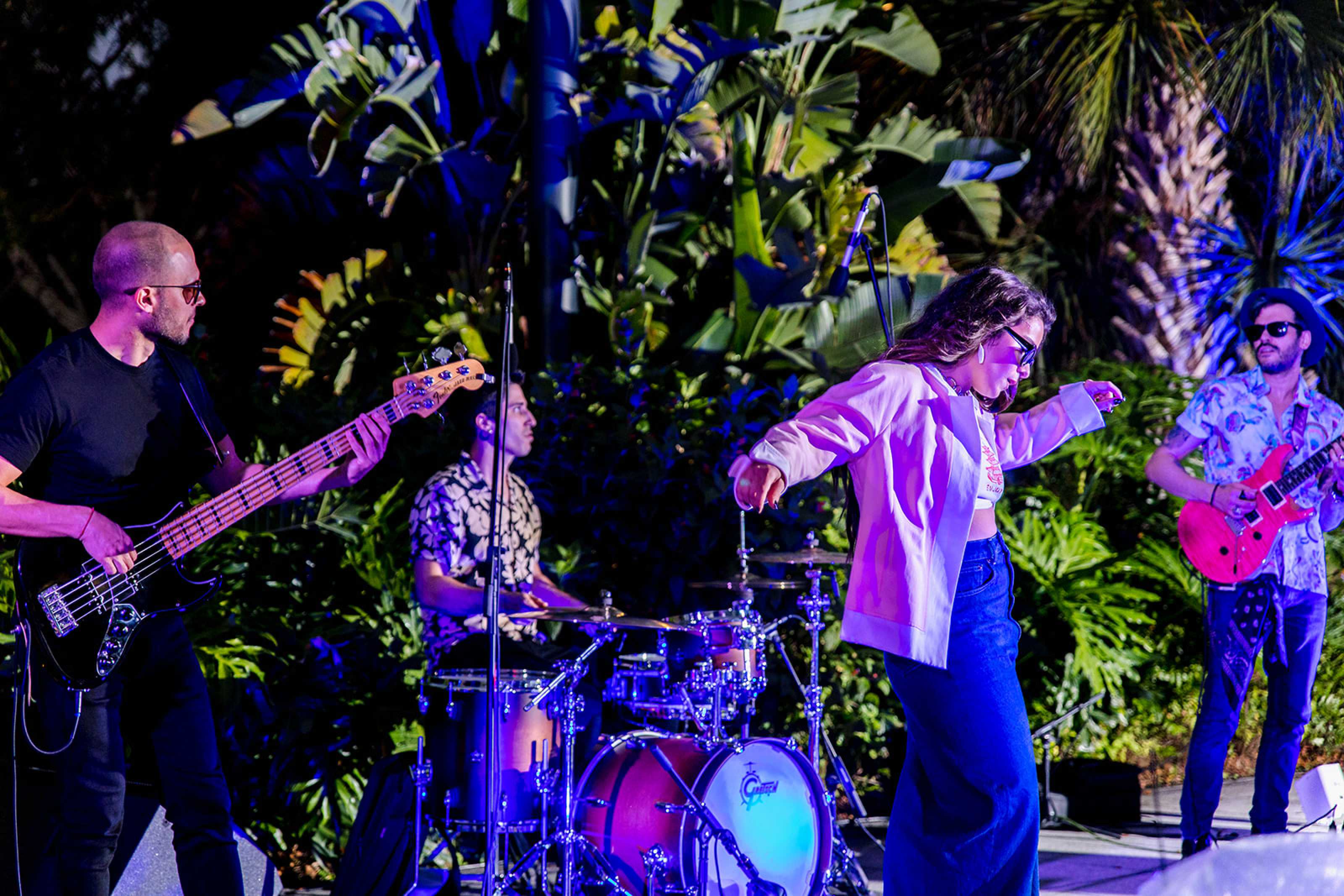 A New Experience Every Friday Night!
Enjoy an eclectic mix of live performances, film screenings, workshops, tours, and more!
EVERY FRIDAY, 5:30 & 7 PM
Docent-led Tours (30 min) Explore great works in the Norton's collection led by one of the Museum's fine docents.
EVERY FRIDAY, 6 – 9 PM
Open Studio: Art Workshops Join local teaching artists as they lead drop-in style art-making sessions. All ages and experience levels welcome. Materials included.
EVERY FRIDAY, Live Performances
Enjoy live performances every Friday including live music, dance, spoken word, and more! Check our website weekly for updates.
First Fridays of the Month, 7:30 pm / Jazz Fridays
This popular monthly series features performances by some of South Florida's best jazz musicians!
Third Fridays of the Month, 8 pm / Artist Tour
South Florida-based artists lead informal, 30-minute gallery talks about works in the Norton's collection and special exhibitions.
Art After Dark
Friday, June 9 / 5PM-10PM
Join a tour!

Docents discuss artworks in the Norton's collection. Pick up your tour wristband at the Reception Desk one hour before the tour.

5:30-6pm

Open Studio with Guest Teaching Artist Roland Chang Barrero

Pajaro Project

Artist Rolando Chang Barrero has created engaging community art programs with organizations like the Adrienne Arsht Center and Fiesta del Pueblo. He says: "My iconic image of a 'Pajaro/ Bird' has been translated and interpreted in many forms." Join him to create your own Pajaro collage, finished with details using acrylic paint markers.

6-9pm

Lecture / Stephen Brown on Florine Stettheimer

The painter and poet Florine Stettheimer (1871 – 1944) is an icon of the Jazz Age whose friends included Marcel Duchamp and Georgia O'Keeffe. Learn about Stettheimer's life, as well as her sophisticated and whimsical artwork, which is included in the exhibition At the Dawn of a New Age: Early Twentieth-Century American Modernism. Speaker Stephen Brown is a curator at the Jewish Museum, New York, where he has organized major exhibitions on modern artists, including Florine Stettheimer in 2017.

6-7pm

Live Music / JJ and the Florida Oranges

JJ & The Florida Oranges is a folk/Americana quintet; formed from friends in the neighborhood of Lake Worth Beach, passing the time during the Covid 19 Lockdown. With instruments like banjo, fiddle, cello, four-part harmonies, and lively percussion, JJ & TFO quickly became the life of any gathering they were attending. Today, the group continues to delight the crowds at events, local bars, and cocktail parties with folk-singalong covers of favorites ranging from classic country/Americana, to modern indie-folk, to even reimagined top-20 pop tunes.

Listen here: JJ & The Florida Oranges: Some Day by Gwen Karabensh (soundcloud.com)

7:30-9pm

Join a tour!

Docents discuss artworks in the Norton's collection. Pick up your tour wristband at the Reception Desk one hour before the tour.

7:30-8pm
Hours: The museum is currently open to the public until 10 pm on Friday nights.
Entry: Admission during Art After Dark is $10 for Adults & Seniors, $5 for Students. Tickets may be purchased at the Reception Desk or reserved in advance.
How to get here: The Norton Museum of Art is located at 1401 S. Dixie Hwy., West Palm Beach, FL 33401. For more information, click here.
Parking: Parking is available in the Norton's main parking lot at 1501 South Dixie Highway, immediately across the street from the Museum. Parking is $5 per car, per day. Norton Members park for free.
Food and drink: The Restaurant at the Norton offers indoor and outdoor seating with beautiful views of our Sculpture Garden. Along with great food, The Restaurant serves creative cocktails, wine, and champagne. Reservations available through Tock.
Art After Dark is made possible by the generosity of The Addison Hines Charitable Trust.
Support for Open Studio was provided by The Mr. and Mrs. Lewis Schott Endowment for Education.