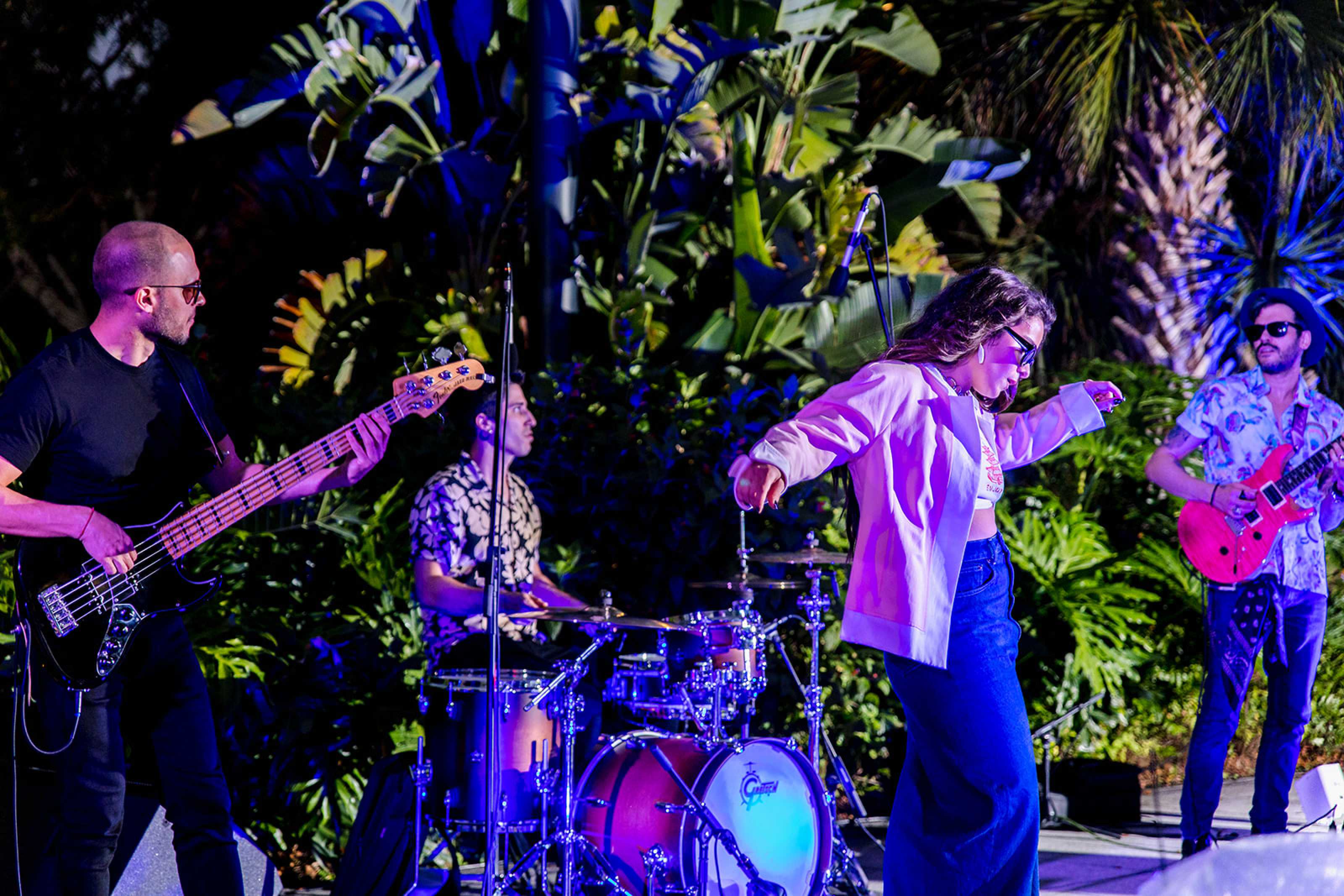 A New Experience Every Friday Night!
Enjoy an eclectic mix of live performances, film screenings, workshops, tours, and more!
EVERY FRIDAY, 5:30 & 7:30 PM
Docent-led Tours (30 min) Explore great works in the Norton's collection led by one of the Museum's fine docents.
EVERY FRIDAY, 6 – 9 PM
Open Studio: Art Workshops Join local teaching artists as they lead drop-in style art-making sessions. All ages and experience levels welcome. Materials included.
First Fridays of the Month, 7 pm / Jazz Fridays
This popular monthly series features performances by some of South Florida's best jazz musicians!
Third Fridays of the Month, 8 pm / Artist Tour
South Florida-based artists lead informal, 30-minute gallery talks about works in the Norton's collection and special exhibitions.
Film Fridays This Fall, 7 PM / Films 4 Fall: High Fashion, Street Style
October 28, November 18, December 16, 2022
This series features documentary films on photography and fashion with introductions and post-screening discussions led by Karen Davis, former director of the Palm Beach Jewish Film Festival, artistic director of the Palm Beach Israeli Film Series, and moderator for the Cinema Club in Deerfield Beach. The series is offered in conjunction with the special exhibition A Personal View on High Fashion & Street Style: Photographs from the Nicola Erni Collection, 1930s to Now.
Art After Dark / Jazz Friday!
Friday, February 3 / 5PM-10PM
Join a tour!

Embark on a tour of the High Fashion & Street Style special exhibition on this docent-led tour.

Pick up your tour wristband at the Reception Desk one hour before the tour.

5:30-6pm

Curator Conversation

Welcoming Good Fortune in 2023, The Year of the Rabbit

Join Elizabeth B. McGraw Senior Curator of Chinese Art, Laurie Barnes, in celebrating the Year of the Rabbit by looking closely at Chinese works in the collection that depict this animal. The exploration will begin with three intricate representations found in the Lantern Festival ( Shangyuan Jie) paintings, briefly on view from Lunar New Year's Day, Saturday, January 21 through the date of the Lantern Festival on Sunday, February 5, 2023.

6pm

Open Studio

Inspired by the haute couture of High Fashion & Street Style, create your own beaded accessories with guest teaching artist, Jasmine Nichole.

About Jasmine Nichole




Jasmine Nichole is a self-taught, multi-hyphenate artist who has her hands in many different intricately painted jars. Between drawing, painting, designing, needleworking, writing, and modeling, Jasmine uses art to express her deepest and darkest thoughts and feelings. Her mission is to inspire and open up doors for anyone who wants to use emotion to create freely and express without criticism. Her love for creating is what drives her, and success motivates her.

Where to find Jasmine:

@jasminenicholeofficial
@nich.olethebrand
www.jasminenichole.com

6-9pm

Jazz Friday / Neil Bacher Quartet

The Neil Bacher Quartet – Neil Bacher (guitar), Nick Rosen (piano), Andres Aybar (bass), and Harvel Nakundi (drums) – is presenting Jazz compositions in a free, swinging style which is the result of the vivid interaction of the four musicians. Their acoustic sound quality is focused on transparency, which allows the instruments to blend throughout the full range of dynamics and create a chamber music like atmosphere.

About Neil Bacher

Neil Bacher grew up in Miami where he started to play Jazz guitar professionally at age 17. In the course of his career he played as a sideman for Ira Sullivan, Dolph and Tony Castellano, Stan Getz, Elvin Jones, Bobby Mover, Alice Day, Sandy Patton and many others. He has been living and working back in South Florida since 2000. Neil is currently residing in West Palm Beach and is holding the position of professor for Jazz Guitar, Jazz Guitar Ensembles, and Jazz Combos at Palm Beach State College as well as performing nationally and internationally.

8-9:30pm

Join a tour!

Docents discuss artworks in the Norton's collection.

Pick up your tour wristband at the Reception Desk one hour before the tour.

7:30-8pm
Hours: The museum is currently open to the public until 10 pm on Friday nights.
Entry: Please note daily capacity is limited and advance, timed-ticket reservations are encouraged to help ensure a safe and enjoyable visiting experience for all. To attend in-person Art After Dark programs, reserve a timed ticket.
How to get here: The Norton Museum of Art is located at 1450 S. Dixie Hwy., West Palm Beach, FL 33401. For more information, click here.
Parking: Parking is available in the Norton's main parking lot at 1501 South Dixie Highway, immediately across the street from the Museum. Parking is $5 per car, per day. Norton Members park for free.
Food and drink: The Restaurant at the Norton is fully operational, and seating available outdoors with a view of our Sculpture Garden and in the Restaurant. Along with great food, The Restaurant can be enjoyed with creative cocktails, wine, or champagne. Reservations recommended at OpenTable.com
Admission: Art After Dark is included with museum admission. As always, members enjoy free museum admission.