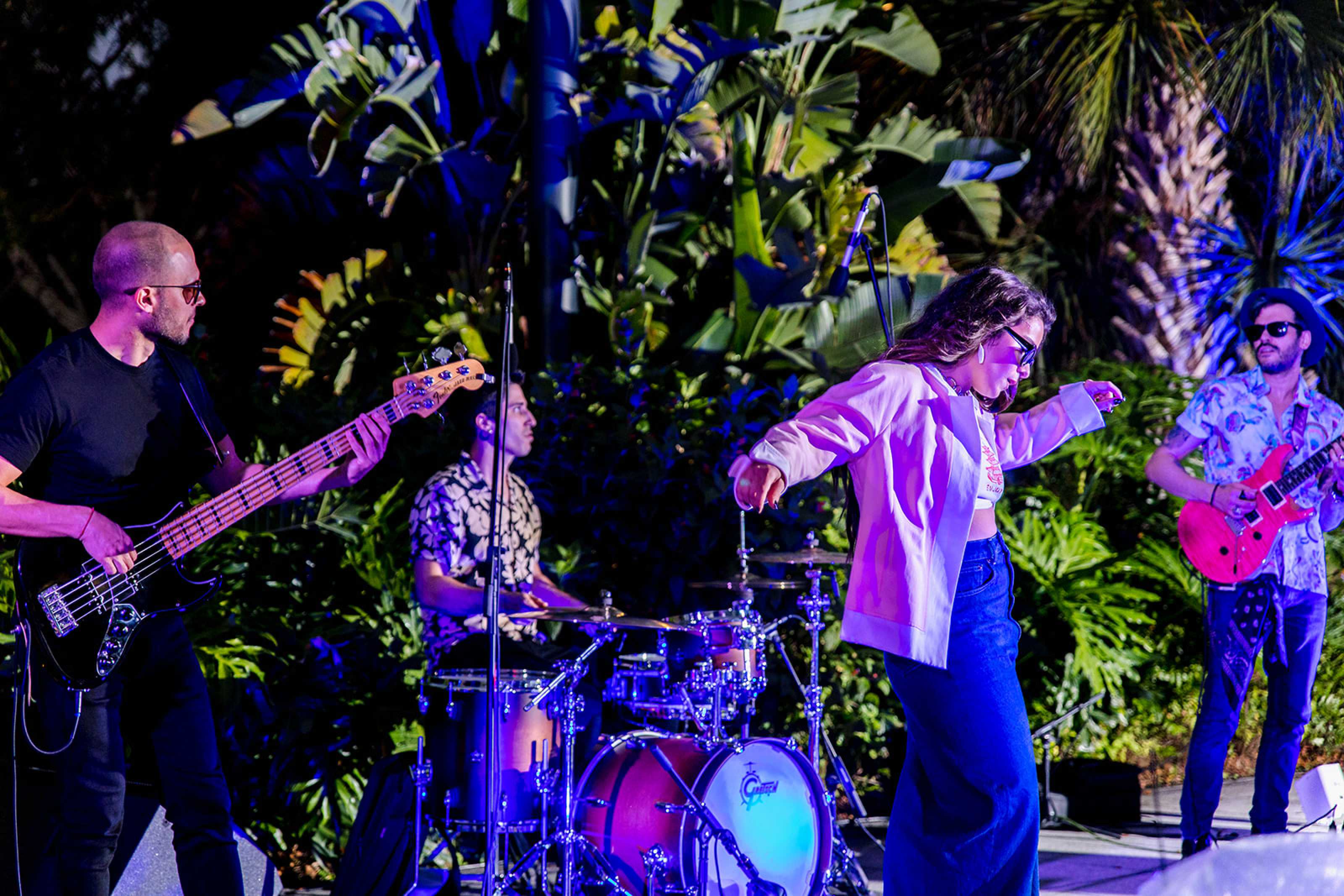 A New Experience Every Friday Night!
Enjoy an eclectic mix of live performances, film screenings, workshops, tours, and more!
EVERY FRIDAY, 5:30 & 7:30 PM
Docent-led Tours (30 min) Explore great works in the Norton's collection led by one of the Museum's fine docents.
EVERY FRIDAY, 6 – 9 PM
Open Studio: Art Workshops Join local teaching artists as they lead drop-in style art-making sessions. All ages and experience levels welcome. Materials included.
EVERY FRIDAY, Live Performances
Enjoy live performances every Friday including live music, dance, spoken word, and more! Check our website weekly for updates.
First Fridays of the Month, 7 pm / Jazz Fridays
This popular monthly series features performances by some of South Florida's best jazz musicians!
Third Fridays of the Month, 8 pm / Artist Tour
South Florida-based artists lead informal, 30-minute gallery talks about works in the Norton's collection and special exhibitions.
Art After Dark
Friday, March 24 / 5PM-10PM
A New Experience Every Friday Night!
Join us as we celebrate Women's History Month. Enjoy docent led tours, a wellness workshop, an artmaking activity with teaching artist Aurora Rincon, chat with Curatorial Research Assistant Tiera Ndlovu, and enjoy live music by Miami Girl's Tumbao.
Schedule of Tonight's Experiences
Don't know where to go? Ask one of our friendly greeters or Reception personnel!
Join a tour!

Pick up your tour wristband at Visitor Experience available 1 hour before tour.

Meet in the Great Hall

5:30-7:30pm

Curator Conversation / At the Dawn of a New Age: Two Collectors and their Legacies

In her final Curator Conversation as the Norton's Harold and Anne Berkley Smith Senior Curator of American Art, Ellen Roberts discusses the current special exhibition from the Whitney Museum of American Art in relation to the complementary show of the Norton's American modernism collection, exploring connections between these two strong collections and the ways in which both institutions continue to expand the art historical canon.

Space is limited and tickets are available at the Reception Desk one hour before program.

In Stiller Auditorium




6-7pm

Wellness Program/ Reiki Breath Work with Sound Bowl Meditation

Join Zoe Seaton and Alexis Gallego in the Courtyard for a peaceful sound bowl meditation and breath work class with Reiki healing.

In Courtyard

6:30-7:30pm

Open Studio / Handmade Tiny Book created by Aurora Rincon

Create a Tiny Handmade Tiny Book with teaching artist Aurora Rincon

Inspired by American Artist, Helen Frankenthaler's book on display at the New York Vanguard.

For all ages and experience levels.

All materials are included.

Colonnade

6-9pm

Live Music / Miami Girls Tumbao

Miami Girls Tumbao is a six-piece all female Cuban band specialized in Afrocuban and Latin music. The band delivers a wide array of salsa, merengue, chacha, bolero, son, kizomba and timba. A mix of original music with arrangements of classics of the Cuban and Latin international repertoire.

In Sculpture Garden

7:30-9pm

Join a tour!

Docents discuss works in the galleries.

Pick up your tour wristband at the Reception Desk one hour before the tour.

7:30-8pm

Chat with a Curator Tiera Ndlovu

Join Tiera Ndlovu, Curatorial Research Associate at the Norton, as she discusses work by women artists in the galleries.

Meet in Great Hall





8-8:30pm

Enjoy these additional activities until 10 pm: 

Take a leisurely artful stroll to enjoy the Norton galleries and exhibitions!
Stop in the Store and browse for one-of-a-kind items for all ages amongst a well-curated selection of products intended to celebrate the uniqueness of the Norton's collection.
Grab a bite in The Restaurant that serves light fare and a selection of cocktails, beers, wines, and soft drinks until 9pm.
Take a walk in the Museum Garden where the art exhibitions continue with outdoor sculptures.
Visit the Project Room to go beyond looking at art! Draw, build, read, and playfully explore New York Mural by Stuart Davis. On the second floor.
Museum members always enjoy 10% off in the Store and Restaurant. Sign up for membership at the Visitor Experience desk tonight and enjoy 20% off your first visit to both.
An Augmented Reality (AR) Art + experience is included with museum admission. Get your iPad now in the Great Hall!
Instagramming this evening? Use hashtags #NortonWPB and #MyNorton!
Follow us on social media and subscribe to The Norton Channel on YouTube for the most up-to-date Norton news!

The Restaurant at the Norton is serving until 9 pm. Food, cocktails, beer, wine and an assortment of soft drinks available.

March 31, 2023 at Art After Dark: Women's History Celebration

Enjoy a program of "Women in Jazz" with the Maggie Kinney Collective. Learn to create

5:30pm
Hours: The museum is currently open to the public until 10 pm on Friday nights.
Entry: Please note daily capacity is limited and advance, timed-ticket reservations are encouraged to help ensure a safe and enjoyable visiting experience for all. To attend in-person Art After Dark programs, reserve a timed ticket.
How to get here: The Norton Museum of Art is located at 1450 S. Dixie Hwy., West Palm Beach, FL 33401. For more information, click here.
Parking: Parking is available in the Norton's main parking lot at 1501 South Dixie Highway, immediately across the street from the Museum. Parking is $5 per car, per day. Norton Members park for free.
Food and drink: The Restaurant at the Norton is fully operational, and seating available outdoors with a view of our Sculpture Garden and in the Restaurant. Along with great food, The Restaurant can be enjoyed with creative cocktails, wine, or champagne. Reservations recommended at OpenTable.com
Admission: Art After Dark is included with museum admission. As always, members enjoy free museum admission.