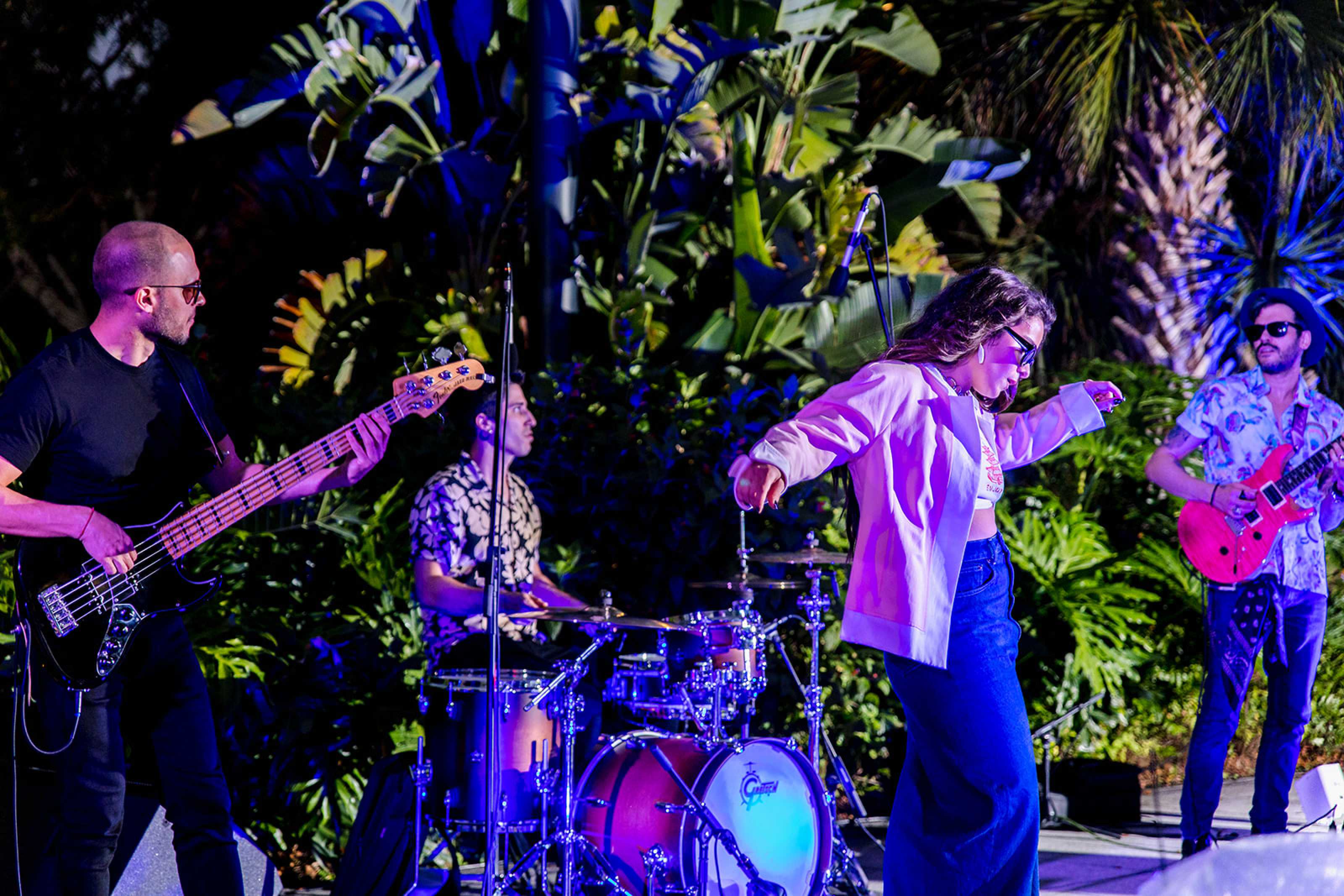 A New Experience Every Friday Night!
Enjoy an eclectic mix of live performances, film screenings, workshops, tours, and more!
EVERY FRIDAY, 5:30 & 7 PM
Docent-led Tours (30 min) Explore great works in the Norton's collection led by one of the Museum's fine docents.
EVERY FRIDAY, 6 – 9 PM
Open Studio: Art Workshops Join local teaching artists as they lead drop-in style art-making sessions. All ages and experience levels welcome. Materials included.
EVERY FRIDAY, Live Performances
Enjoy live performances every Friday including live music, dance, spoken word, and more! Check our website weekly for updates.
First Fridays of the Month, 7:30 pm / Jazz Fridays
This popular monthly series features performances by some of South Florida's best jazz musicians!
Third Fridays of the Month, 8 pm / Artist Tour
South Florida-based artists lead informal, 30-minute gallery talks about works in the Norton's collection and special exhibitions.
Art After Dark / Celebrate Women's History Month
Friday, March 31 / 5PM-10PM
Join a tour!

Docents discuss artworks in the Norton's collection.

Pick up your tour wristband at the Reception Desk one hour before the tour.

5:30-6pm

Open Studio / Guest Teaching Artist Amaya Estrada

Create your own masterpiece with a teaching artist in this drop-in style art-making workshop, inspired by the Norton's collection or special exhibitions.

For all ages and experience levels. All materials are included.

6-9pm

ArtSpeaks / Tina Kukielski on Art and Technology

"Art and culture have an important role to play in the rebuilding of our future and the reckoning of this time." —Tina Kukielski, From the Executive Director: Rebuilding Our Future through Art and Culture, February 2021

After a successful career as a contemporary art curator / After positions as a contemporary art curator, film producer, art critic, writer, and educator, Tina Kukielski was appointed as the Executive Director of ART21 in 2016. Her experience in these various roles have given her a distinct view of the role of technology and the digitization of art in today's world. She will speak to Norton audiences about the confluence of art, film, and technology – and what it means for our future.

6-7pm

Live Music / A Tribute to Women in Jazz with the Maggie Kinney Collective

The Maggie Kinney Collective will pay tribute to all the amazing women of jazz. Originally from Chicago, Maggie has been a 2021 Downbeat Student Music Award Outstanding Performance Winner in the Vocal Jazz Soloist Category in the Undergraduate College Division.

Maggie Kinney is an award winning, up and coming Jazz Vocalist who is pushing the boundaries of Modern Jazz while being rooted in the tradition. She takes her audience on a journey of her own life experiences through her original music and arrangements. From the music of Ella Fitzgerald and Antonio Carlos Jobim to today's iconic Jazz Musicians such as Walter Smith III and Gretchen Parlato, Kinney encompasses it all when she performs; having something for all music lovers to enjoy.

Maggie will be performing two sets of music by female composers of the jazz idiom as well as some pieces paying tribute to some of the female jazz greats, such as Carla Bley, Gretchen Parlato, Cecile McLorin Salvant, Ella Fitzgerald and Alice Coltrane. Maggie will be performing this music alongside her incredible band; Donald Distefano(piano), Blake Aldridge(bass), Sten Greifer(drums), and Luca Stine (trumpet).

7:30-9pm

Join a tour!

Docents discuss artworks in the Norton's collection.

Pick up your tour wristband at the Reception Desk one hour before the tour.

7:30-8pm
Hours: The museum is currently open to the public until 10 pm on Friday nights.
Entry: Admission during Art After Dark is $10 for Adults & Seniors, $5 for Students. Tickets may be purchased at the Reception Desk or reserved in advance.
How to get here: The Norton Museum of Art is located at 1401 S. Dixie Hwy., West Palm Beach, FL 33401. For more information, click here.
Parking: Parking is available in the Norton's main parking lot at 1501 South Dixie Highway, immediately across the street from the Museum. Parking is $5 per car, per day. Norton Members park for free.
Food and drink: The Restaurant at the Norton offers indoor and outdoor seating with beautiful views of our Sculpture Garden. Along with great food, The Restaurant serves creative cocktails, wine, and champagne. Reservations available through Tock.
Art After Dark is made possible by the generosity of The Addison Hines Charitable Trust.
Support for Open Studio was provided by The Mr. and Mrs. Lewis Schott Endowment for Education.