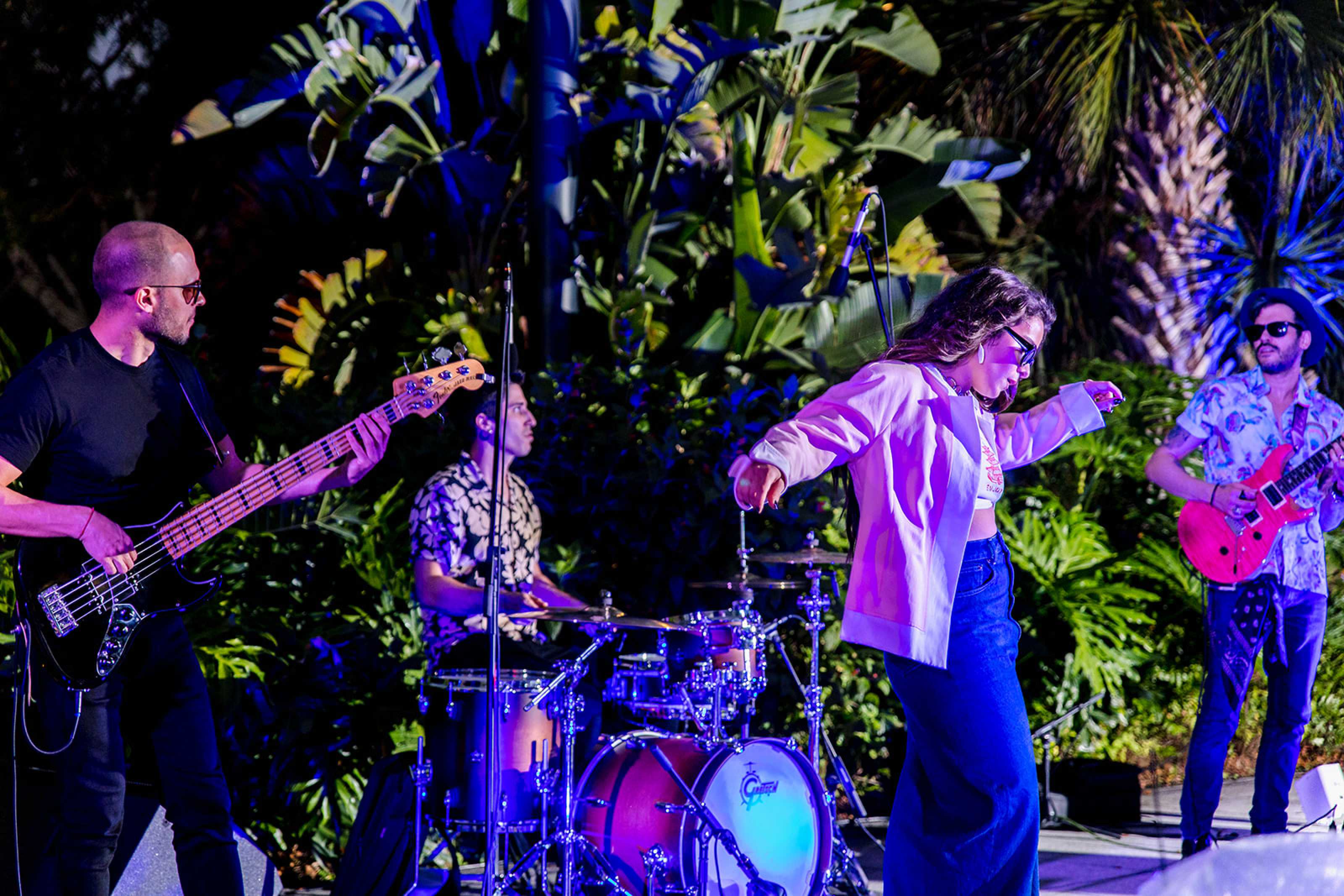 A New Experience Every Friday Night!
Enjoy an eclectic mix of live performances, film screenings, workshops, tours, and more!
EVERY FRIDAY, 5:30 & 7 PM
Docent-led Tours (30 min) Explore great works in the Norton's collection led by one of the Museum's fine docents.
EVERY FRIDAY, 6 – 9 PM
Open Studio: Art Workshops Join local teaching artists as they lead drop-in style art-making sessions. All ages and experience levels welcome. Materials included.
EVERY FRIDAY, Live Performances
Enjoy live performances every Friday including live music, dance, spoken word, and more! Check our website weekly for updates.
First Fridays of the Month, 7:30 pm / Jazz Fridays
This popular monthly series features performances by some of South Florida's best jazz musicians!
Third Fridays of the Month, 8 pm / Artist Tour
South Florida-based artists lead informal, 30-minute gallery talks about works in the Norton's collection and special exhibitions.
Art After Dark / Celebrate Asian American and Pacific Islander Night
Friday, May 19 / 5PM-10PM
Join a tour!

Docents discuss artworks in the Norton's collection. Pick up your tour wristband at the Reception Desk one hour before the tour.

5:30-6pm

Open Studio / Resident Teaching Artist Lymari Cuevas

Paint a Japanese Fan in the Uchiwa style.

Uchiwa, a stiff, rounded fan. It is an indispensable item during Japanese summer. It is used not only for fanning, but also for repelling mosquitos and flies. It is also believed to have the power to ward off evil spirits and has been used in various forms and for various purposes, such as in the form of gunbai fan at Shinto rituals. Uchiwa fans come in two types: round fans and rhombic fans. It is said that this type of fans existed in China as early as 3 B.C. and were brought to Japan around the 6th-7th century.

6-9pm

Live Music / Fushu Daiko

Enjoy Taiko drumming and Japanese flute in the Garden!

Fushu Daiko is made up of many nationalities and backgrounds, yet we have been drawn together by the taiko. Through its vibrations, Fushu Daiko wishes to create a sense of connection in the hearts of those who feel the taiko's beat.

7:30-9pm

Join a tour!

Docents discuss artworks in the Norton's collection. Pick up your tour wristband at the Reception Desk one hour before the tour.

7:30-8pm

ARTIST TOUR

Join local Artist Sarah Huang for a special tour highlighting some of the Asian art in our collection.

Sarah E. Huang is a Taiwanese-American artist based in Delray Beach, FL. Huang graduated magna cum laude with a Bachelor of Fine Arts in Painting from Florida Atlantic University in 2015 and has exhibited her evocative paintings, drawings, and installations locally, nationally, and internationally over the last decade. SARAH E. HUANG (sarahehuang.com)

8-8:30pm
Hours: The museum is currently open to the public until 10 pm on Friday nights.
Entry: Admission during Art After Dark is $10 for Adults & Seniors, $5 for Students. Tickets may be purchased at the Reception Desk or reserved in advance.
How to get here: The Norton Museum of Art is located at 1401 S. Dixie Hwy., West Palm Beach, FL 33401. For more information, click here.
Parking: Parking is available in the Norton's main parking lot at 1501 South Dixie Highway, immediately across the street from the Museum. Parking is $5 per car, per day. Norton Members park for free.
Food and drink: The Restaurant at the Norton offers indoor and outdoor seating with beautiful views of our Sculpture Garden. Along with great food, The Restaurant serves creative cocktails, wine, and champagne. Reservations available through Tock.
Art After Dark is made possible by the generosity of The Addison Hines Charitable Trust.
Support for Open Studio was provided by The Mr. and Mrs. Lewis Schott Endowment for Education.