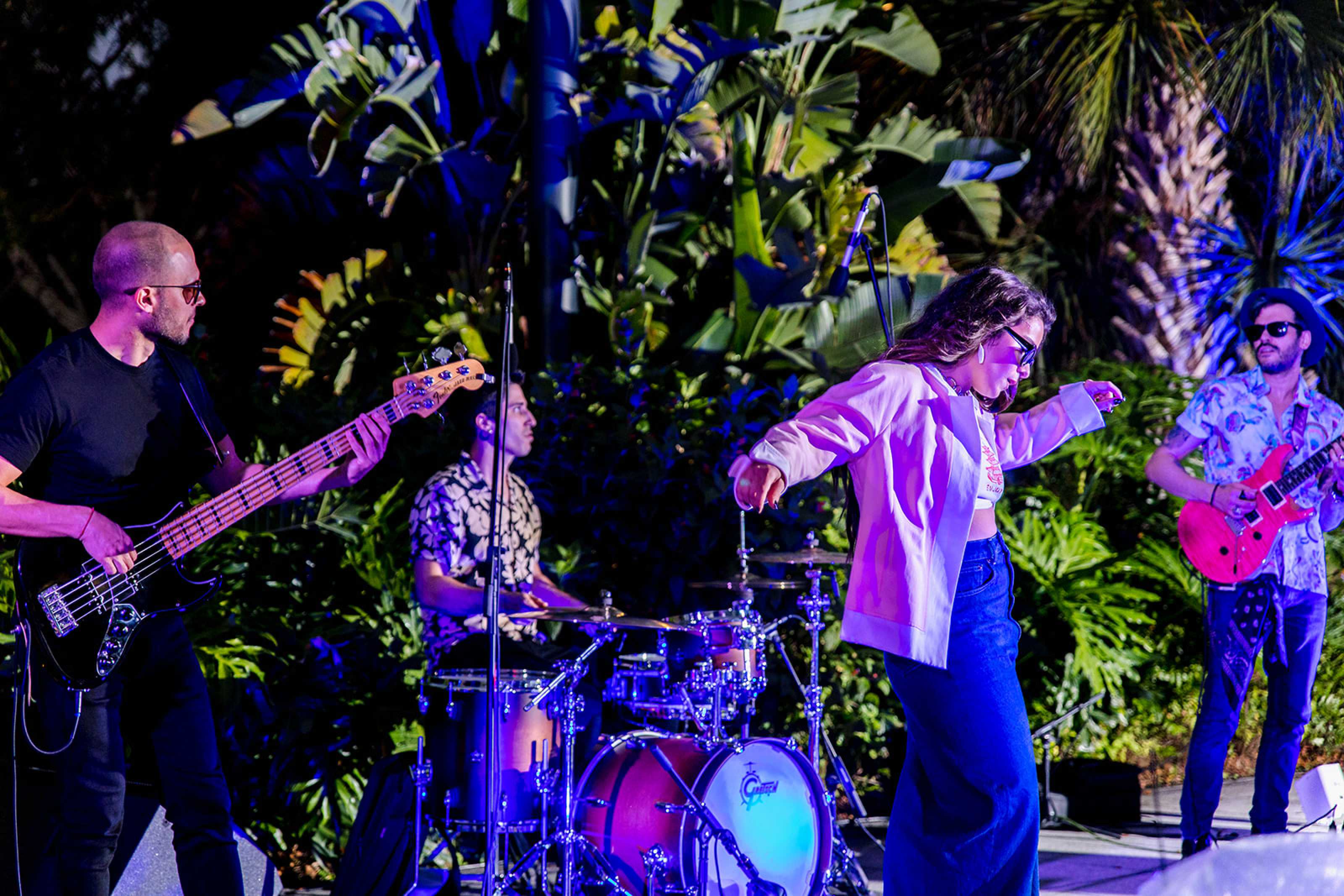 A New Experience Every Friday Night!
Enjoy an eclectic mix of live performances, film screenings, workshops, tours, and more!
EVERY FRIDAY, 5:30 & 7 PM
Docent-led Tours (30 min) Explore great works in the Norton's collection led by one of the Museum's fine docents.
EVERY FRIDAY, 6 – 9 PM
Open Studio: Art Workshops Join local teaching artists as they lead drop-in style art-making sessions. All ages and experience levels welcome. Materials included.
EVERY FRIDAY, Live Performances
Enjoy live performances every Friday including live music, dance, spoken word, and more! Check our website weekly for updates.
First Fridays of the Month, 7:30 pm / Jazz Fridays
This popular monthly series features performances by some of South Florida's best jazz musicians!
Third Fridays of the Month, 8 pm / Artist Tour
South Florida-based artists lead informal, 30-minute gallery talks about works in the Norton's collection and special exhibitions.
Art After Dark
Friday, November 17 / 5PM-10PM
Join a tour!

Docents discuss artworks in the Norton's collection. Pick up your tour wristband at the Reception Desk one hour before the tour.

5:30-6pm

Open Studio / Teaching Artist Jose R Mendez

To celebrate dance and the Norton and 50 years of Hip Hop, design your own tiny sneaker with Resident Teaching Artist Jose R Mendez.

6-9pm
7-7:30pm

Lecture: Her Voice 2023

Cream Literary Society

Her Voice 2023 is a three part program to elevate the female voice. We partnered with the Palm Beach County Library System to provide two free generative writing craft classes taught by professionals. The November 17th AAD public literary reading is the culmination of this program highlighting work by some of the participants of these classes along with the teachers. Audience members will listen to poems and short excerpts of memoir and fiction, all in celebration of the beauty, strength, and resilience of the female experience. This is open to all attendees of Art After Dark.

Korman Room

7:30pm

Dance / Dance Works & Progress


Natural Movers Foundation

Commissioned by Natural Movers Foundation for Dance Works & Progress, a series of performances at Art After Dark. The evening will feature works by way of large-scale projection mapping by Kenny Fowler and local student choreographers followed by a Q&A.

Featured Choreographer: Kenny Fowler

Under the Direction of Kenneth L Fowler Jr., MESH ENTERTAINMENT GROUP is presenting a live, high energy entertaining performance featuring a creative remix of an 80s hit song: "Sweet Dreams." The performance will feature a visual creative spin of the first computer generated TV presenter, Max Headroom, projection screens, and hip-hop dance.

MESH ENTERTAINMENT GROUP is an immersive, theatrical performance group of Palm Beach County under the umbrella of Loud Live Productions. Kenneth L. Fowler Jr. is the Founder and Director.

Featured Student Choreographers: Addison Hand & Elizabeth Karpov, Reese McWilliams, Savannah Miller, Aliya Rajnic, and Bethany Wolek

Great Hall

7:30-8:30pm

Performance Art / Autumn Kioti


Autumn Kioti

An exploration of identity and hierarchy, this durational performance literally strips down the concept of the Great Chain of Being. With slow meditative steps, water, fabric, plant matter and natural dyes, Autumn will create an improvisational, evanescent, site specific performance, inspired in part by works from the Norton's collection. This performance will take place over an hour, visitors may come and go as they please. Following, the artist will be available for informal questions and conversation.

Bio:

Art and nature are humanity's common language, and Autumn's primary instrument as an interdisciplinary artist and Master Naturalist. They use this common language to tell stories. Within their current practice, they confront issues such as climate change, the Anthropocene urge to conquer the environment, food justice, identity, intersectional eco-feminism, finding the correlation of each to the other impossible to ignore.

Their visual and/or performance work has been shown worldwide. Locally, they can be found at the Cultural Council for Palm Beach County, Studio 18, Arts Warehouse, GallerRE and more, and in West Palm Beach through a commission from the ArtLife committee in partnership with the Mandel Library. When not creating art, they are a union affiliated actor and environmental educator.

The Courtyard




8-9pm
Hours: The museum is currently open to the public until 10 pm on Friday nights.
Entry: Admission during Art After Dark is $10 for Adults & Seniors, $5 for Students. Tickets may be purchased at the Reception Desk or reserved in advance.
How to get here: The Norton Museum of Art is located at 1401 S. Dixie Hwy., West Palm Beach, FL 33401. For more information, click here.
Parking: Parking is available in the Norton's main parking lot at 1501 South Dixie Highway, immediately across the street from the Museum. Parking is $5 per car, per day. Norton Members park for free.
Food and drink: The Restaurant at the Norton offers indoor and outdoor seating with beautiful views of our Sculpture Garden. Along with great food, The Restaurant serves creative cocktails, wine, and champagne. Reservations available through Tock.
Art After Dark is made possible by the generosity of The Addison Hines Charitable Trust.
Support for Open Studio was provided by The Mr. and Mrs. Lewis Schott Endowment for Education.