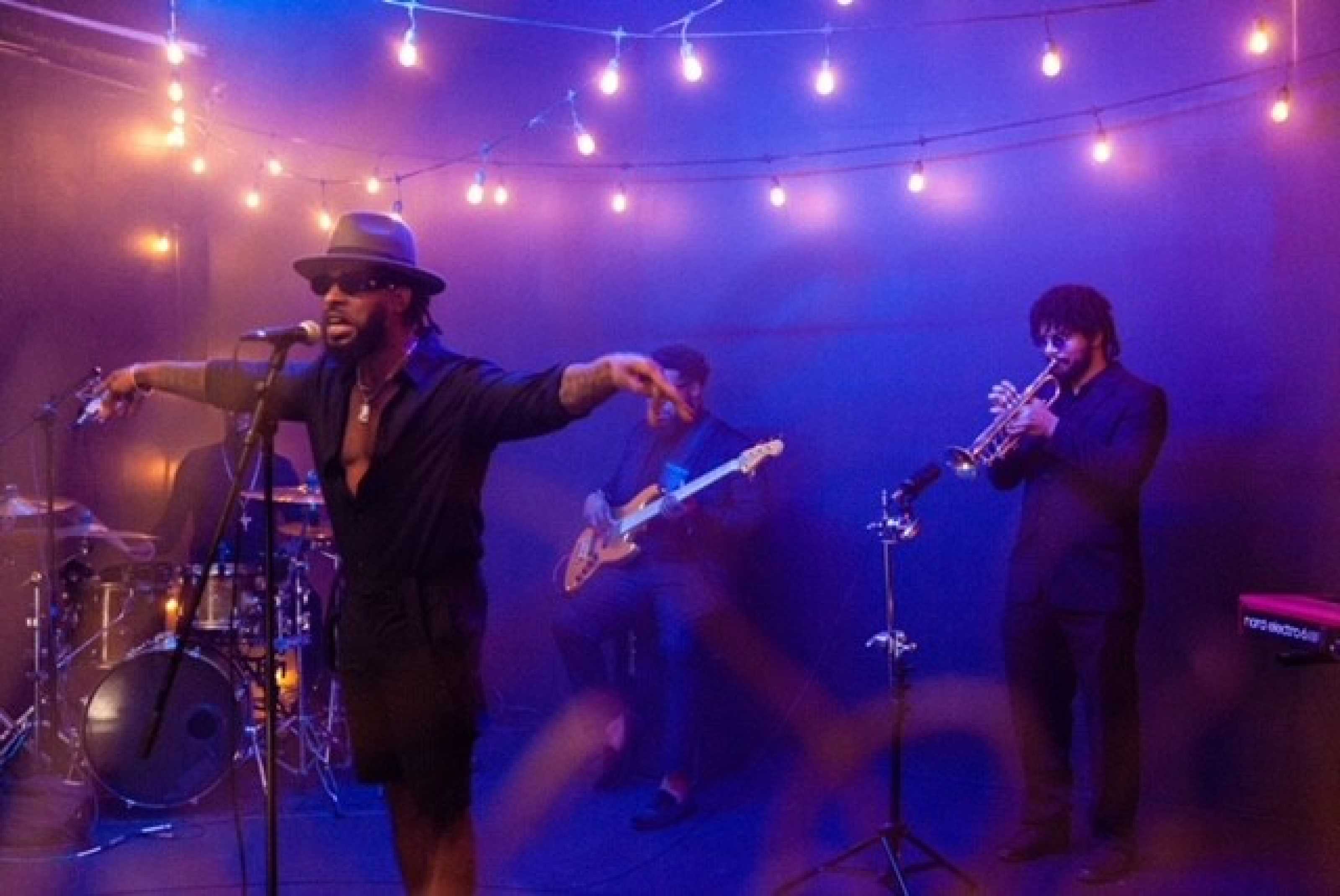 A New Experience Every Friday Night!
Art After Dark mixes art and entertainment every Friday night! Enjoy live performances, film screenings, art workshops, and more. Programs are will be presented both in-person and online.
Art After Dark Celebrates Juneteenth / Von Archer
Friday, June 17 / 5PM-10PM
Join our Pre-Juneteenth Festival celebration during Art After Dark with a musical performance by rapper and songwriter Von Archer, an Open Studio that will celebrate the holiday, and an Artist Tour by south-Florida artist and Associate Professor of Visual Art at Florida Atlantic University, Dorotha Lemeh.
Juneteenth festivities continue on Saturday, June 18 from 12-5pm!
Tour

Explore great works in the Museum's collection led by one of the Museum's fine docents.

Space is limited, and tickets are available on a first come first served basis 1 hour before the program begins.

5:30-6pm

Curator Conversation / Summer Silk: Qing Dynasty Robes and Signs of the Season with Curator Laurie Barnes

Explore the details of two summer silk gauze robes, one created for a man and the other for a woman, as well as a summer panel from Birds and Flowers of the Four Seasons. The Semi-Formal Summer Court Dragon Robe (Jifu) was created for a Qing dynasty official to wear at work, while the midnight blue women's patterned silk gauze summer surcoat was created for a Qing dynasty aristocratic lady.

Space is limited; tickets available one hour before program time.

6-7pm

Open Studio

Join Teaching Artist Jose Mendez to create a work of art in celebration of Juneteenth!

For all ages and experience levels. All materials are included

6-9pm

Live Music / Von Archer

Enjoy a live musical performance by Von Archer, American singer, rapper, and songwriter. The creative artist has appeared on BEW and caught the attention of industry executives with his "out of the box" live performances.

With a message of excellence and evolution at the core of his brand, Archer used his music to push the culture forward through motivation.

7-8:30pm

Tour

Explore great works in the Museum's collection led by one of the Museum's fine docents.

Space is limited, and tickets are available on a first come first served basis 1 hour before the program begins.

7:30-8pm

Artist Tour with Dorotha Lemeh

South Florida-based artists lead informal, 30-minute gallery conversations on works in the Norton's collection and special exhibitions.

About the artist:
Dorotha Grace Lemeh is an Associate Professor of Visual Art at the Harriet L. Wilkes Honors College of Florida Atlantic University (2005 – Current). She originally began her academic teaching career at The Pennsylvania State University, University Park campus; first as a faculty member in School of Visual Arts' (SoVA) painting & drawing program (1989 – 1992), and later as the SoVA's Coordinator of Advising (1992 – 2005).

As a professional visual artist, Dorotha Grace has participated in over 80 exhibitions both nationally and internationally. She continues to receive awards and recognition for her creative works, including, Best of Show, 1stPlace, Merit Award in Painting & Honorable Mention

8-8:30pm
Hours: The museum is currently open to the public until 10 pm on Friday nights.
Entry: Please note daily capacity is limited and advance, timed-ticket reservations are encouraged to help ensure a safe and enjoyable visiting experience for all. To attend in-person Art After Dark programs, reserve a timed ticket.
How to get here: The Norton Museum of Art is located at 1450 S. Dixie Hwy., West Palm Beach, FL 33401. For more information, click here.
Parking: Parking is available in the Norton's main parking lot at 1501 South Dixie Highway, immediately across the street from the Museum. Parking is $5 per car, per day. Norton Members park for free.
Food and drink: The Restaurant at the Norton is fully operational, and seating available outdoors with a view of our Sculpture Garden and in the Restaurant. Along with great food, The Restaurant can be enjoyed with creative cocktails, wine, or champagne. Reservations recommended at OpenTable.com
Admission: Art After Dark is included with museum admission. As always, members enjoy free museum admission.