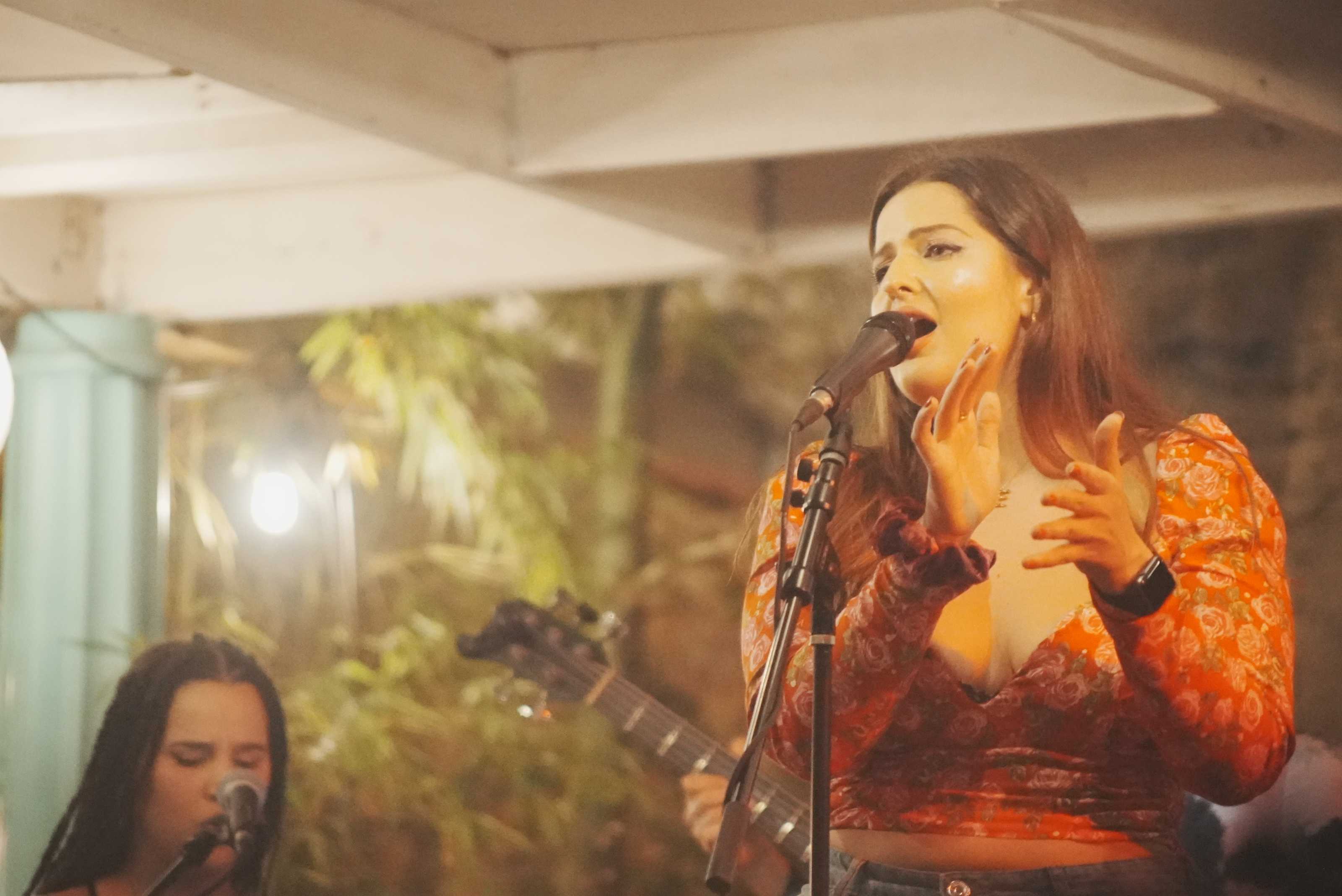 A New Experience Every Friday Night!
Enjoy an eclectic mix of live performances, film screenings, workshops, tours, and more!
EVERY FRIDAY, 5:30 & 7:30 PM
Docent-led Tours (30 min) Explore great works in the Norton's collection led by one of the Museum's fine docents.
EVERY FRIDAY, 6 – 9 PM
Open Studio: Art Workshops Join local teaching artists as they lead drop-in style art-making sessions. All ages and experience levels welcome. Materials included.
First Fridays of the Month, 7 pm / Jazz Fridays
This popular monthly series features performances by some of South Florida's best jazz musicians!
Third Fridays of the Month, 8 pm / Artist Tour
South Florida-based artists lead informal, 30-minute gallery talks about works in the Norton's collection and special exhibitions.
Film Fridays This Fall, 7 PM / Films 4 Fall: High Fashion, Street Style
October 28, November 18, December 16, 2022
This series features documentary films on photography and fashion with introductions and post-screening discussions led by Karen Davis, former director of the Palm Beach Jewish Film Festival, artistic director of the Palm Beach Israeli Film Series, and moderator for the Cinema Club in Deerfield Beach. The series is offered in conjunction with the special exhibition A Personal View on High Fashion & Street Style: Photographs from the Nicola Erni Collection, 1930s to Now.
Art After Dark / Sorolla and Spanish Art
Friday, August 19 / 5PM-10PM
South Florida-based artists lead informal 30-minute gallery talks about works in the Norton's collection and special exhibitions.
Tour

Limited to 14 people per docent. Pick up your tour wristband at Visitor Experience available 1 hour before tour.

Meet at the Great Hall

5:30-6pm

Open Studio

Join guest teaching artist Eva Lia Pedriglieri and create a work of art inspired by Spanish artists like Joaquin Sorolla y Bastida.

About the Artist:

Eva Lia is an interdisciplinary artist, cultural researcher, and educator. Her work investigates and represents Afro-Latine and Mediterranean heritage through personal and community identity. She connects memory, family, and cultural tradition with new media and technology through performance, video, social practice and site-specific installation--engaging actively with her audiences through participatory experiences and community involvement. Her work advocates for socialization and bonding practices, like eating a delicious meal or dancing with a loved one, as an art practice. Eva holds a BFA in Fine Arts and a BA in Culture & Media Studies from Parsons the New School for Design. She has exhibited artwork and screened her short films in galleries and festivals in New York, Los Angeles, Paris, Miami, and Dominican Republic. She has also produced, directed and coordinated several public events and international art festivals in South Florida. Along with her work as an independent artist, has served as a US cultural ambassador and English teacher in Southern Italy as part of the Fulbright grant.

Classroom 2

@evalia.p / @evaliadaily

6-9pm
7:30-8pm

Live Music / Mestizas

About Mestizas:

Mestizas is a musical group that combines styles such as flamenco, jazz and various genres of Latin American and Caribbean folklore.
From a contemporary perspective, they revisit forgotten —but fundamental— songs from the cultures that forged their intertwined identities along with their own compositions. From Spain to Uruguay, and from La Havana to Boston, their music is the vehicle that transports the cultural richness of each of its 5 members. With exquisite musicality, the quintet that was born at Berklee College of Music stands out for its quality, originality, aesthetic and social awareness. In a Mestizas' show, each song is a story and each story is an invitation to travel to the center of our traditions to renew, rediscover, and admire them.
Mestizas members are Esperanza Delgado on lead vocals (Córdoba, Spain), Estefanía Núñez-Villamandos on piano and backing vocals (La Havana, Cuba), Ale Gómez on trumpet, percussion and backing vocals (Montevideo, Uruguay), Patricia Ligia on bass and backing vocals (Montevideo, Uruguay) and Paloma Gómez on flute, percussion and backing vocals (Sevilla, Spain).

Photo by @oigo

7:30-9pm

Artist Tour

Join artist Jill Lavetsky as she discusses works in the collection by Joaquin Sorolla y Bastida, Pablo Picasso, and other Spanish artists.

About the Artist:

Jill Lavetsky is a visual artist and educator living in Lake Worth, FL. In her figurative paintings, drawings, and collages, she explores themes of motherhood and intimate relationships. Jill received a Master's degree in painting from Florida Atlantic University in 2013, and has taught college, K-12 through community outreach, as well as incarcerated women. She has been featured in exhibitions such as the Florida Invitational at the Boca Museum of Art, and Drawn at Manifest Gallery in Cincinnati, OH.

@jilllavetsky (Instagram)

8-8:30pm
Hours: The museum is currently open to the public until 10 pm on Friday nights.
Entry: Please note daily capacity is limited and advance, timed-ticket reservations are encouraged to help ensure a safe and enjoyable visiting experience for all. To attend in-person Art After Dark programs, reserve a timed ticket.
How to get here: The Norton Museum of Art is located at 1450 S. Dixie Hwy., West Palm Beach, FL 33401. For more information, click here.
Parking: Parking is available in the Norton's main parking lot at 1501 South Dixie Highway, immediately across the street from the Museum. Parking is $5 per car, per day. Norton Members park for free.
Food and drink: The Restaurant at the Norton is fully operational, and seating available outdoors with a view of our Sculpture Garden and in the Restaurant. Along with great food, The Restaurant can be enjoyed with creative cocktails, wine, or champagne. Reservations recommended at OpenTable.com
Admission: Art After Dark is included with museum admission. As always, members enjoy free museum admission.