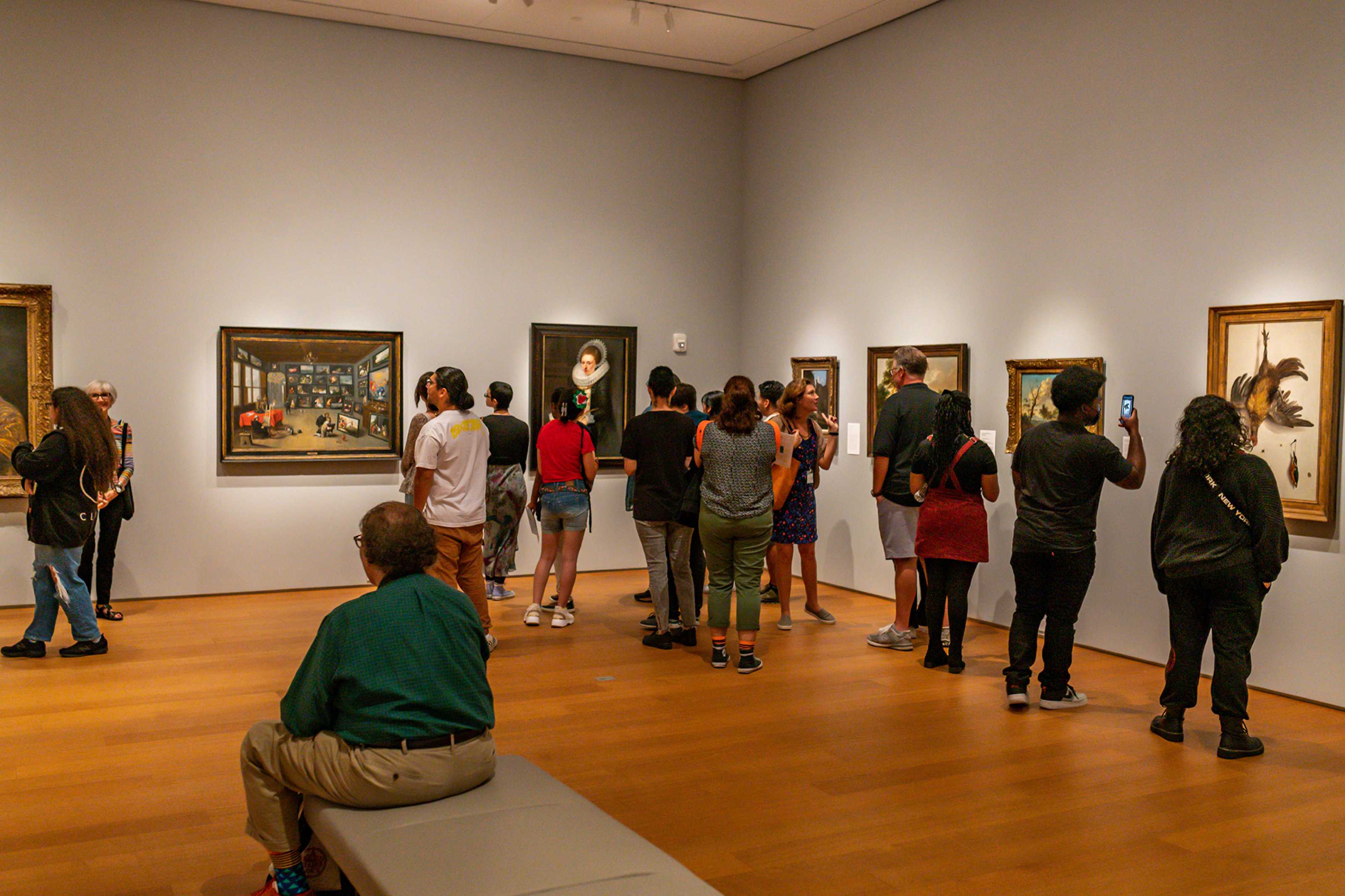 A New Experience Every Friday Night!
Enjoy an eclectic mix of live performances, film screenings, workshops, tours, and more!
EVERY FRIDAY, 5:30 & 7:30 PM
Docent-led Tours (30 min) Explore great works in the Norton's collection led by one of the Museum's fine docents.
EVERY FRIDAY, 6 – 9 PM
Open Studio: Art Workshops Join local teaching artists as they lead drop-in style art-making sessions. All ages and experience levels welcome. Materials included.
First Fridays of the Month, 7 pm / Jazz Fridays
This popular monthly series features performances by some of South Florida's best jazz musicians!
Third Fridays of the Month, 8 pm / Artist Tour
South Florida-based artists lead informal, 30-minute gallery talks about works in the Norton's collection and special exhibitions.
Film Fridays This Fall, 7 PM / Films 4 Fall: High Fashion, Street Style
October 28, November 18, December 16, 2022
This series features documentary films on photography and fashion with introductions and post-screening discussions led by Karen Davis, former director of the Palm Beach Jewish Film Festival, artistic director of the Palm Beach Israeli Film Series, and moderator for the Cinema Club in Deerfield Beach. The series is offered in conjunction with the special exhibition A Personal View on High Fashion & Street Style: Photographs from the Nicola Erni Collection, 1930s to Now.
Art After Dark / Barbara Gomulka
Friday, November 25 / 5PM-10PM
Join a Tour

Docents discuss artworks in the Norton's collection.

5:30-6pm

Open Studio

Create a wearable work of art inspired by George Cohen's Loggia painting in this drop-in style open studio hosted by guest teaching artist, Ely Bellorin.

George Cohen became known in the 1950s for his paintings and board constructions with objects and mirrors attached to them. He is considered a major influence and forerunner of the Chicago Imagists, as well as a major national contributor to the development of painting in the 1950s and 1960s. He worked in oils and mixed techniques. A Northwestern University faculty profile describes Cohen as "a surrealist" who "combines the metaphysical with the sensual to express new realities of space, time, and the human form." Using this painter as a point of view and inspiration, Bellorin proposes an incursion into the art of decorating our pieces of clothing using various techniques and tools. The predominance of the abstract and the use of striking and contrasting colors will be the premise guests will follow.

6-9pm

Live Music / Barbara Gomulka

Barbara Gomulka, a Florida born and based pianist, performs an ambient and romantic medley of standards, ballads, and originals. Barbara has performed across a variety of cities for holiday events, art receptions, festivals, dinners, garden events, and more.

6-9pm

Documentary Screening / Simon Schama's Power of Art: Rothko (50 min.)

This documentary series introduces viewers to major works that were turning points in the lives of the artists who created them. Join us to watch his program on Mark Rothko (1903-1970), a Latvian immigrant who moved to New York and worked through realist and surrealist styles before becoming a leading abstract expressionist painter, alongside Jackson Pollock and Willem De Kooning.

7pm

Join a Tour

Docents discuss artworks in the Norton's collection.

7:30-8pm
Hours: The museum is currently open to the public until 10 pm on Friday nights.
Entry: Please note daily capacity is limited and advance, timed-ticket reservations are encouraged to help ensure a safe and enjoyable visiting experience for all. To attend in-person Art After Dark programs, reserve a timed ticket.
How to get here: The Norton Museum of Art is located at 1450 S. Dixie Hwy., West Palm Beach, FL 33401. For more information, click here.
Parking: Parking is available in the Norton's main parking lot at 1501 South Dixie Highway, immediately across the street from the Museum. Parking is $5 per car, per day. Norton Members park for free.
Food and drink: The Restaurant at the Norton is fully operational, and seating available outdoors with a view of our Sculpture Garden and in the Restaurant. Along with great food, The Restaurant can be enjoyed with creative cocktails, wine, or champagne. Reservations recommended at OpenTable.com
Admission: Art After Dark is included with museum admission. As always, members enjoy free museum admission.