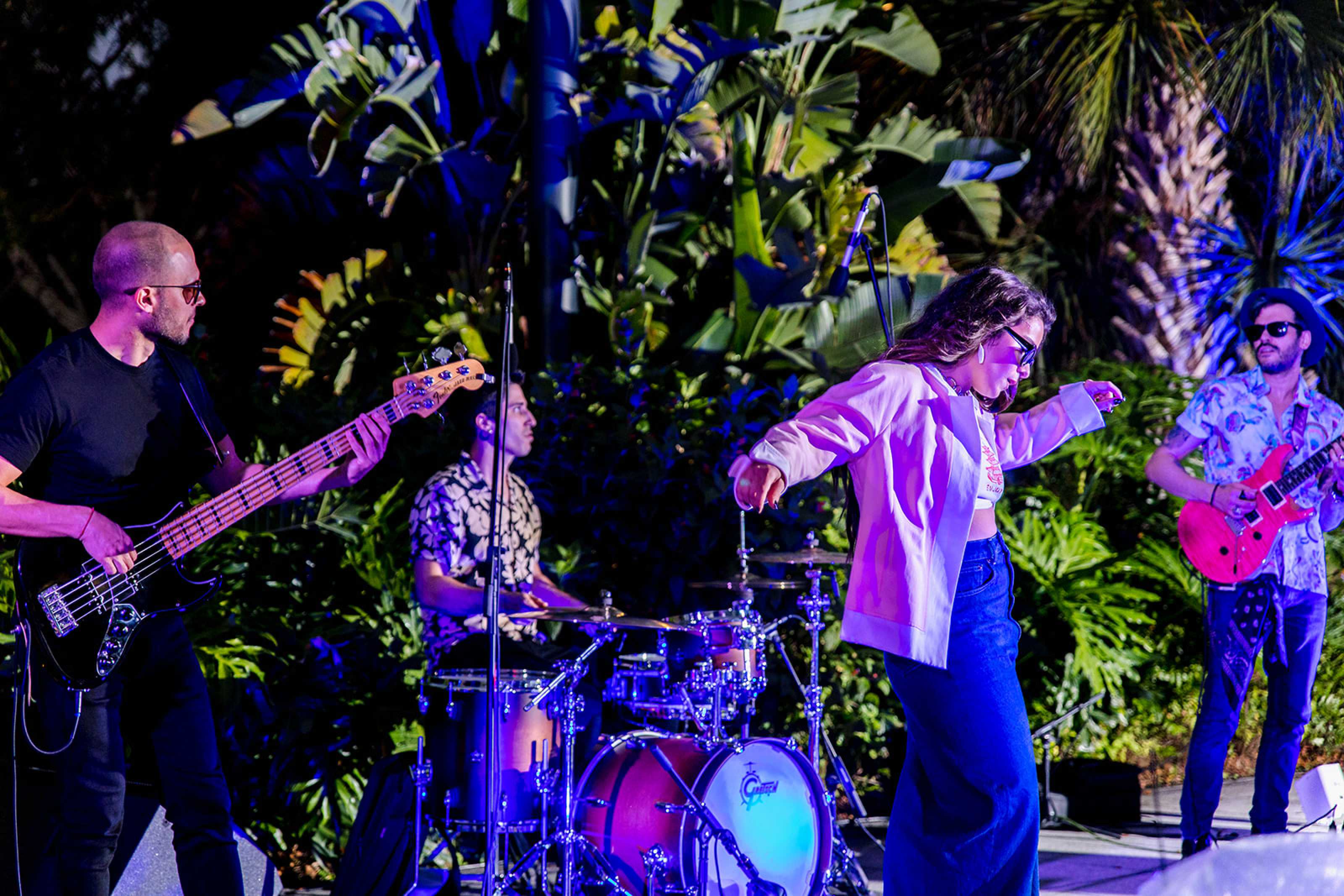 A New Experience Every Friday Night!
Enjoy an eclectic mix of live performances, film screenings, workshops, tours, and more!
EVERY FRIDAY, 5:30 & 7:30 PM
Docent-led Tours (30 min) Explore great works in the Norton's collection led by one of the Museum's fine docents.
EVERY FRIDAY, 6 – 9 PM
Open Studio: Art Workshops Join local teaching artists as they lead drop-in style art-making sessions. All ages and experience levels welcome. Materials included.
EVERY FRIDAY, Live Performances
Enjoy live performances every Friday including live music, dance, spoken word, and more! Check our website weekly for updates.
First Fridays of the Month, 7 pm / Jazz Fridays
This popular monthly series features performances by some of South Florida's best jazz musicians!
Third Fridays of the Month, 8 pm / Artist Tour
South Florida-based artists lead informal, 30-minute gallery talks about works in the Norton's collection and special exhibitions.
Art After Dark / Mid-Autumn Festival
Friday, September 29 / 5PM-10PM
Join the Norton in celebrating the Mid-Autumn Festival with art activities, mooncakes, and tea. The Mid-Autumn Festival (中秋節 Zhong Qiu Jie), or Moon Festival, which falls on September 29, 2023, is a harvest festival celebrated in China, like Chuseok in Korea and Tsukimi in Japan. Like many other harvest festivals around the world, the Mid-Autumn Festival is close to the autumn equinox. The origin of Mid-Autumn Festival celebrations can be traced to Western Zhou dynasty kings, who reigned from 1045 to 770 BCE, offering sacrifices to the moon in the fall to request a plentiful harvest for the coming year. In the later years of the Tang dynasty, everyone celebrated by enjoying music and dance while appreciating the bright moon. The Yuan Dynasty introduced the tradition of eating mooncakes during the festival. In addition to celebrating the end of the autumn harvest, this holiday promotes gathering of friends and family, thanksgiving, and prayers for prosperous futures.
Join a tour!

Discover 4-5 works in the galleries with a Docent.

Pick up your tour wristband at the Reception Desk one hour before the tour.

5:30-6pm

Open Studio

Join Guest Teaching Artist Simon Powers and create a traditional Chinese Rabbit Lantern to celebrate the Mid-Autumn Festival.

Simon Powers is a ceramics artist based in Lake Worth. She has a Bachelor of Fine Arts in Ceramics from Metropolitan State University in Denver Colorado. Her work has been seen in gallery shows including -- Six by Six show, SF Mobile Museum, Deck The Hall, Life After Auraria, Take it to the Edge, Women Artists Only, Core New Art Space. She also designed and built an award winning float for Western Welcome Week in Littleton, Colorado.

6-9pm

Join a tour!

Discover 4-5 works in the galleries with a Docent. Pick up your tour wristband at the Reception Desk one hour before the tour.

7-7:30pm

Dance / Jon Lehrer Dance

The NYC based, internationally touring Jon Lehrer Dance Company (JLDC) concludes their yearly Florida tour with a dynamic and breathtaking performance at the beautiful and intimate Norton Museum of Art. The performance will feature JLDC classics as well as a new comedic work inspired by Flamingos and Peacocks.

Striking the elusive balance between art and entertainment, Jon Lehrer Dance Company showcases unique choreography and a fun, distinctive style which fuses jazz and modern dance, creating a true spectacle onstage which can be enjoyed by dance experts and novices alike.

Since 2019 and as part of the annual Florida tour, Jon Lehrer has been teaching and setting work on young dancers at BAK Middle School of the Arts, Oxbridge Academy, Dreyfoos Academy, and Palm Beach Atlantic University. As a celebration of that amazing community of dancers, those schools will be special guests, performing JLDC works and showcasing the talent and strength of the next generation of dancers in West Palm Beach.

Read more about JLDC at www.jonlehrerdance.com

7-8pm

Artist Tour with Teri Romkey

Explore the exhibition Classic Blues: Cobalt Blue Porcelain and Indigo-dyed Textiles with Artist Teri Romkey.

Teri Romkey is an Asian American artist based in Miami. She majored in creative writing as an undergraduate at Cornell University, while also completing advanced studies in printmaking, photography, and installation sculpture. Romkey is a former artist-in-residence of Oolite Arts and Villa Lena (Tuscany). She previously resided in Brussels, where she was the Special Projects and Studio Manager for Turner Prize-winning artist Laure Prouvost. Romkey has also mentored at the Ratcliffe Art + Design Incubator at FIU. Her recent multidisciplinary works compose striking meditations on exoticism, trauma, and the image production loop in which photography and the digital realm manufacture an iterative culture of social norms and corporeal aesthetics. Romkey's prior photographs concern social narratives with an anthropological and environmental consciousness in urban landscape. Through textured portraits of people, inanimate objects, and spaces, she creates a documentary portrait of their given communities, through which she addresses the hybridized relationship between identity and environment, and the natural vs. manmade. Romkey photographs on film, using a medium format camera.

Meet in Great Hall

8-8:30pm

Moonrise and Moon Cakes

Come to the Colonnade to enjoy a traditional treat of tea and moon cakes as you watch the moon rise and learn more about this important holiday in China.

Colonnade/Goergan Garden

8-9pm
Hours: The museum is currently open to the public until 10 pm on Friday nights.
Entry: Admission during Art After Dark is $10 for Adults & Seniors, $5 for Students. Tickets may be purchased at the Reception Desk or reserved in advance.
How to get here: The Norton Museum of Art is located at 1401 S. Dixie Hwy., West Palm Beach, FL 33401. For more information, click here.
Parking: Parking is available in the Norton's main parking lot at 1501 South Dixie Highway, immediately across the street from the Museum. Parking is $5 per car, per day. Norton Members park for free.
Food and drink: The Restaurant at the Norton offers indoor and outdoor seating with beautiful views of our Sculpture Garden. Along with great food, The Restaurant serves creative cocktails, wine, and champagne. Reservations available through Tock.
Art After Dark is made possible by the generosity of The Cornelia T. Bailey Foundation, with additional support provided by the Addison Hines Charitable Trust.
Support for Open Studio was provided by The Mr. and Mrs. Lewis Schott Endowment for Education.