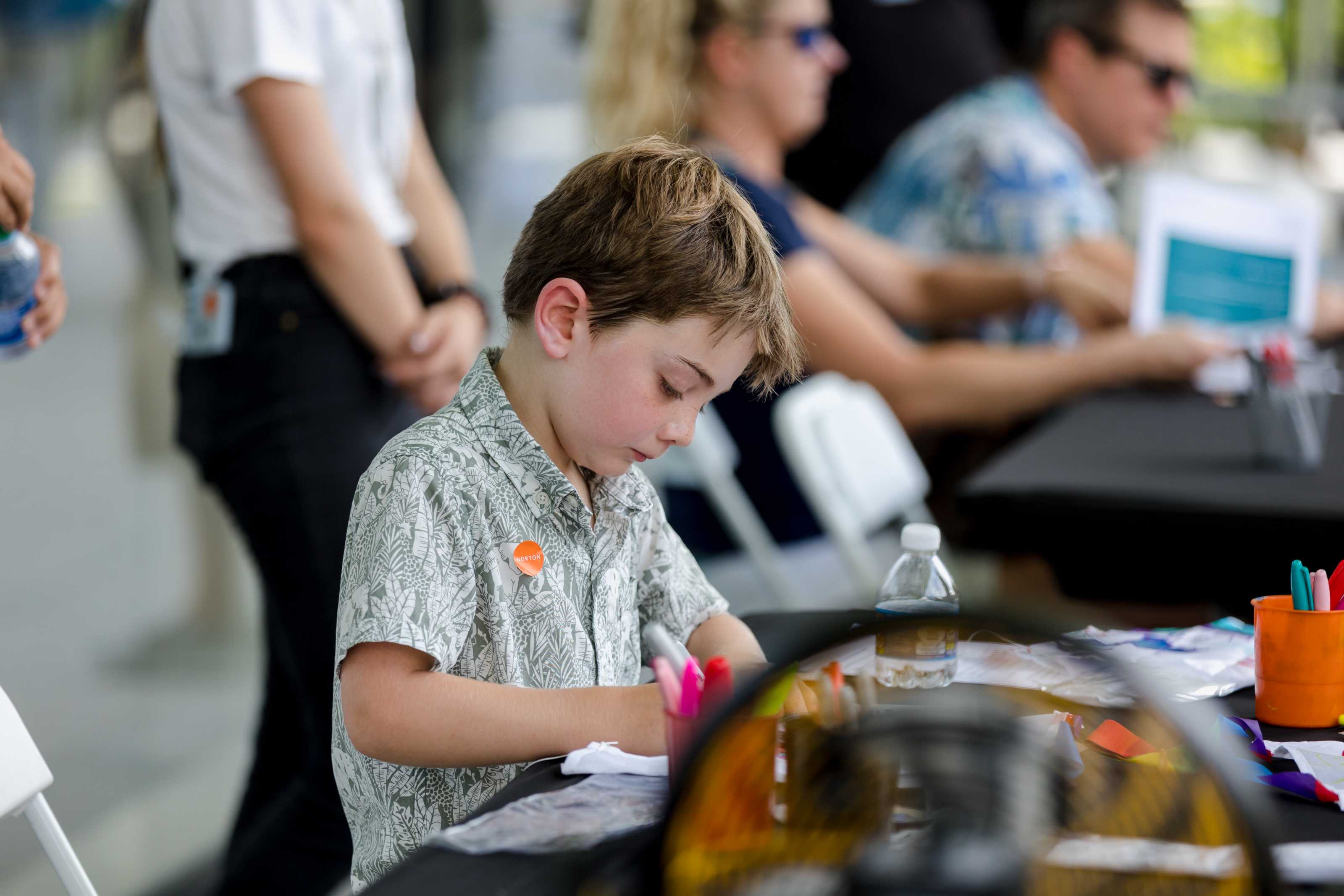 Make art a family affair!
Children ages 5-12, and their accompanying grown-ups, participate in a gallery experience, followed by a related art workshop. 
Family Studio / Resource Depot
Saturday, April 30 / 10:30AM-12:30PM
Make mini 2D fashion designs inspired by Resource Depot's Catwalk Program. Work with Chelsea Odum to create your own little designs from fabulous upcycled fabric scraps.
Cost: $3 per family
About the Catwalk:
Catwalk is a program in which students ranging from middle to high school are given a "trashformation" challenge: construct wearable art made from a variety of traditional and non-traditional materials. Participating students were given access to Resource Depot's treasure trove of reusable materials and participated in weekly workshops, where they learn the basics of using a sewing machine, construction techniques, and receive guidance on how to incorporate the materials they choose. Through the use of nontraditional materials, the students gain environmental consciousness while thinking outside of the "trash". This year the students designed their outfits inspired by a work of contemporary art from the Norton's special exhibition.
A Remarkable Gathering: The Fisher Landau Family Collection.
About Resource Depot:
For over 20 years, Resource Depot's center for creative reuse has turned waste into artistic wonder by collecting and distributing excess materials to the benefit of classrooms, summer camps, art studios, and most importantly, the environment. Resource Depot collects donations from businesses and individuals and redistributes the items to teachers, artists, families, and other non-profit organizations that need them, encouraging creative, hands-on learning and innovation. Every day, Resource Depot encourages others to have fun with diverse materials, inspiring children, and adults to express themselves through creating. Resource Depot serves as an inspiration and resource to Palm Beach County's next generation to value and care for the planet they're inheriting through reuse and repurposing.https://www.resourcedepot.org/catwalkrunway
How to Attend
Classes are live in-person and are limited to 5 families.
$3 Per Family
Once you register your family, you will receive a confirmation email.
Accessibility
The Norton works to ensure that programs are accessible to all visitors. Bilingual, American Sign Language interpreters and live captioning are available by request with at least two weeks advance notice before your registration. To place a request, please contact us at [email protected]
Support for Family Studio was provided by The Andrea and Charles Bronfman Fund for Families, The Sarah Vierck Mettler Family Fund, and The Samuel Rosenthal Foundation Endowment for Education and Outreach Programs.