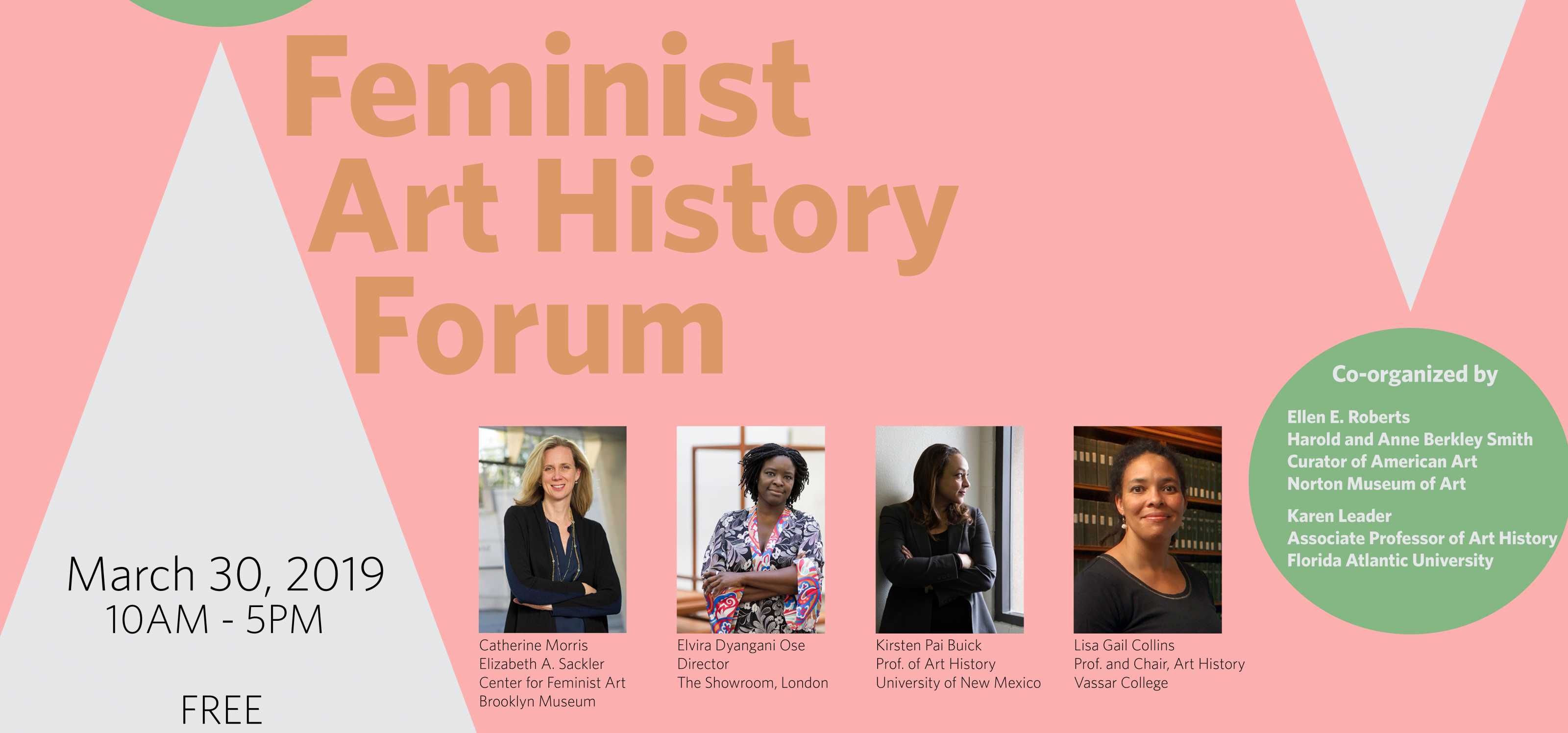 Feminist Art History Forum
Saturday, March 30 / 10 am – 5 pm


Admission is free, pre-registration is requested
In this era of movements such as #MeToo and Time's Up, it's crucial to examine women's roles in the visual arts throughout history. The Norton Museum of Art has recently mounted exhibitions that addressed feminist art history, including the solo shows of contemporary women artists in the RAW—Recognition of Art by Women—series beginning in 2011, as well as exhibitions such as Tiny: Streetwise Revisited—Photographs by Mary Ellen Mark (2015–2016); O'Keeffe, Stettheimer, Torr, Zorach: Women Modernists in New York (2016); and Gertrude Vanderbilt Whitney: Sculpture(2018). In conjunction with the inauguration of the Norton Museum's Women's Walk on Cranesnest Way, which commemorates women artists, Ellen E. Roberts, Harold and Anne Berkley Smith Curator of American Art, and Karen Leader, Associate Professor of Art History at Florida Atlantic University, have organized this program to examine the state of feminist art history today.
Leading scholars discussing this topic include Kirsten Pai Buick, Professor of Art History at the University of New Mexico; Lisa Gail Collins, Professor and Chair of Art at Vassar College; Catherine Morris, the Brooklyn Museum's Sackler Senior Curator at the Elizabeth A. Sackler Center for Feminist Art; and Elvira Dyangani Ose, Director of The Showroom in London. Attendees will have the opportunity to engage with these issues in seminars, tours, and a larger discussion.
Feminist Art History Forum Program
Kirsten Pai Buick, Professor of Art History, University of New Mexico
Morning presentation: "No Exit? Deborah Roberts and the Liberation of Black Childhood"
Afternoon seminar: "Georgia O'Keeffe and the Challenge of Landscape"
Lisa Gail Collins, Professor and Chair of Art History, Vassar College
Morning presentation: "Precious Utility: Love, Loss, and a Quilt"
Afternoon seminar: "Envisioning Feminist Futures: A Creative, Joyful Imagination Game"
Catherine Morris, Sackler Senior Curator, Elizabeth A. Sackler Center for Feminist Art, Brooklyn Museum
Morning presentation: "Thematic and Monographic Recuperations: Revising Revisionism"
Afternoon seminar: "Frida Kahlo and Judith Scott: Case Studies on Theorizing Disability Through Biography"
Elvira Dyangani Ose, Director, The Showroom, London
Morning presentation: TBD
Afternoon seminar: TBD