Michael Blackwood Film Series
Michael Blackwood founded Blackwood Productions Inc. in 1966 with a vision to create compelling documentaries about leading figures in contemporary culture spanning art, music, dance, history, science, and architecture. Blackwood rarely used narration and never allowed the filmmaking to compete with his subjects.
"There are no film portraits in existence of the artists of the early [twentieth] century... it seemed urgent to build up a documentation of the New York art scene as it developed around me. I therefore set out to record on film, with synchronous sound, the artists, their work and their ideas, on the spot and at the height of their careers."
The recipient of a host of awards, in 2010 Blackwood became a fellow of the American Academy of Arts and Sciences.
The Norton presents three of his films, each followed by a virtual post-screening Q&A.
$15 Member / $30 Non Member tickets
Monday, November 23 / 2pm
Christo and Jeanne-Claude, 1995, 58 min.
Directed by Michael Blackwood
Produced by Michael Blackwood Productions
Visit Website
Q&A led by Kate Faulkner, Associate Curator of Education for Public Programs
About This Film
Beginning with their small wrapped objects of 1958, this portrait examines the continuously bold and ambitious artistic ventures of the enigmatic duo, Christo and Jeanne-Claude. Though their large scale environmental projects, such as Running Fence and Wrapped Coast, are often met with distress and concern from the surrounding community, perceptions of the project are likely to shift when it comes time to interact with the grand, finished piece. Neither permanent nor purchasable, Christo and Jeanne-Claude's works exude the essence of freedom and exist only for the sake of existing.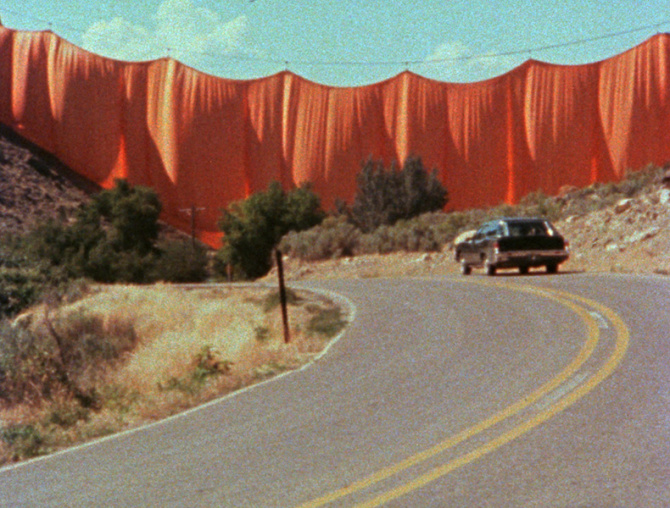 Film still from "Christo and Jeanne-Claude" by Michael Blackwood