Celebrating the first year of the new Norton!
The Norton thanks its visitors and patrons for their support as the Museum continues its mission to serve Palm Beach County and beyond.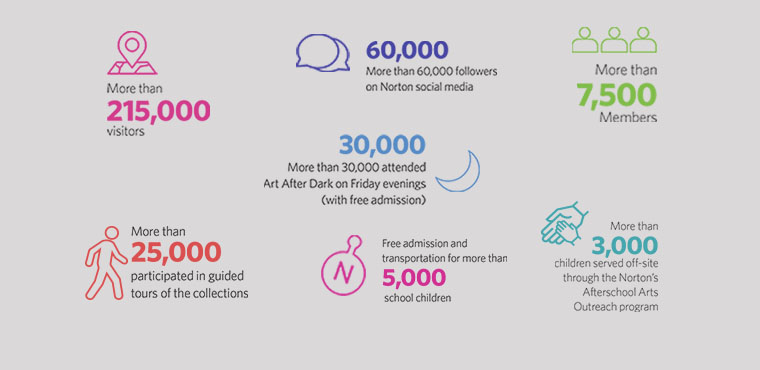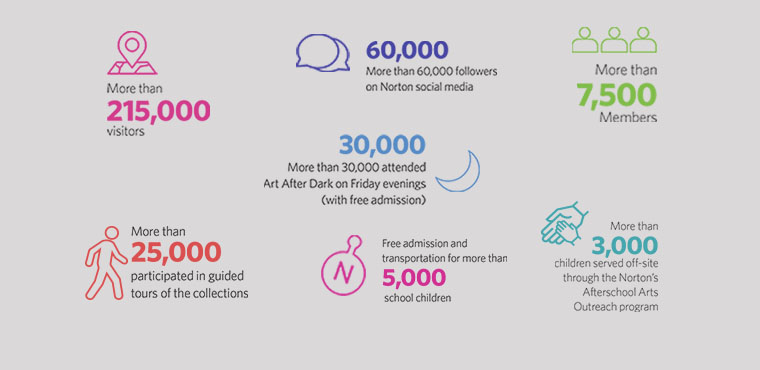 "The New Norton redefines the museum's relationship with the city by means of a dynamic new West Wing," said architect Lord Foster. "The design celebrates the local landscape and architecture, taking advantage of the Museum's excellent location in the heart of West Palm Beach and transforming the landscape to create a museum within a garden. Most importantly, the fully-realized museum campus will accommodate the future growth of this important cultural institution."
- Lord Norman Foster
The Museum's expansion, designed by Pritzker Prize-winning architect Lord Norman Foster of the architectural firm Foster + Partners, was the most comprehensive in the institution's history. Dramatic changes include boldly re-orienting the main entrance to South Dixie Highway, which restores the symmetrical east-west campus axis created in 1941 by original architect Marion Sims Wyeth.
The new 59,000 square-foot Kenneth C. Griffin Building is fronted by Heyman Plaza, which is anchored by the 19-foot-high sculpture, Typewriter Eraser, Scale X (1999), by Claes Oldenburg and his wife, Coosje van Bruggen. Shaded by both vegetation and the building, people can meet, gather, or simply contemplate here before or after a Museum visit. From its calming Michelle and Joseph Jacobs Reflecting Pool to the shimmering canopy above, the Plaza becomes a gateway to the Museum.
The building and accompanying lush sculpture garden, opened to the public on February 9, 2019, enabling the Norton to exhibit more art, present more programs, and provide a growing, but culturally underserved community with a breathtaking, brighter, more welcoming center for the public to enjoy art and culture.
Features of the new campus include:
Project Milestones

Masterplan approved by
Board of Trustees

December 2013

Ceremonial Groundbreaking

February 6, 2016

Topping Out Ceremony

June 27, 2017

Grand Opening

February 2019

Design Architect for Building and Landscape: Foster + Partners
Executive Architect: CBT (Childs Bertman Tseckares, Inc.)
Executive Landscape Architect: EDSA, Inc.
General Contractor: Gilbane Building Company
Foster + Partners

Since its founding in 1967, Foster + Partners has established an international record of architectural excellence. With a strikingly diverse portfolio, including urban master plans, public infrastructure, museums, airports, civic cultural buildings, offices, private homes, and product design, Foster + Partners has projects on six continents. The studio has received 620 awards since its founding, and won more than 100 national and international competitions. Earlier projects include the Museum of Fine Arts, Boston; an addition to the British Museum, London; and the striking Hearst Tower in New York.