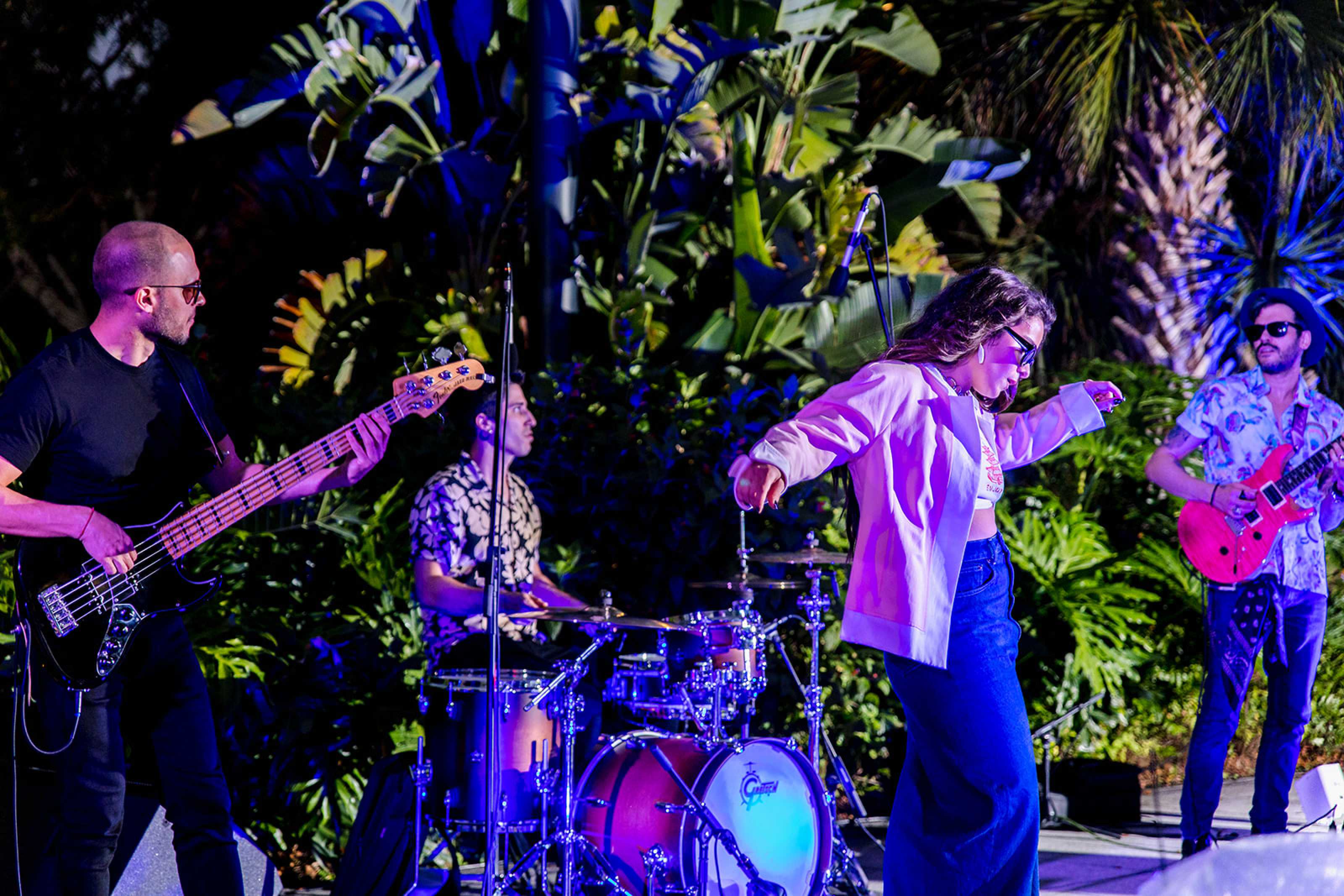 A New Experience Every Friday Night!
Enjoy an eclectic mix of live performances, film screenings, workshops, tours, and more!
EVERY FRIDAY, 5:30 & 7:30 PM
Docent-led Tours (30 min) Explore great works in the Norton's collection led by one of the Museum's fine docents.
EVERY FRIDAY, 6 – 9 PM
Open Studio: Art Workshops Join local teaching artists as they lead drop-in style art-making sessions. All ages and experience levels welcome. Materials included.
EVERY FRIDAY, Live Performances
Enjoy live performances every Friday including live music, dance, spoken word, and more! Check our website weekly for updates.
First Fridays of the Month, 7 pm / Jazz Fridays
This popular monthly series features performances by some of South Florida's best jazz musicians!
Third Fridays of the Month, 8 pm / Artist Tour
South Florida-based artists lead informal, 30-minute gallery talks about works in the Norton's collection and special exhibitions.
Art After Dark / Vivi + Friends
Friday, September 22 / 5PM-10PM
Join a tour!

Docents discuss artworks in the Norton's Collection.

Pick up your tour wristband at the Reception Desk one hour before the tour.

5:30-6pm

Open Studio

Join Guest Teaching Artist Jose Luis Garcia to create a collage book.

Jose Luis Garcia is a Photo-Based Artist, who lives and works in Miami, FL.

He received his Bachelor of Fine Arts in Visual Art from New World School of the Arts/University of Florida and his Master of Fine Arts in Studio Art from Florida International University.

He has exhibited locally in venues such as the Patricia and Philip Frost Art Museum, Vizcaya Museum and Gardens, Cisneros Fontanals Art Foundation, Coral Gables Museum, O Cinema Wynwood in partnership with ArtCenter/South Florida, Bakehouse Art Complex, Laundromat Art Space and Turn-Based Press.

Garcia has taught various educational residencies as a Teaching Artist with Arts for Learning Miami, led workshops with Miami Dade Public Libraries' The Vasari Project, and is a Professor of Art & Photography at Miami Dade College Wolfson Campus, New World School of the Arts, and Broward College North Campus.

Garcia is a current Artist-in-Residence at Laundromat Art Space in Little Haiti, FL.

6-9pm

Join a tour!

Docents discuss artworks in the Norton's Collection.

Pick up your tour wristband at the Reception Desk one hour before the tour.

7-7:30pm

Live Music / Vivi + Friends

Vivian Valls, also known as ViVi, is a Miami born-and-raised vocalist and songwriter. As a recent Berklee College of Music graduate, she is bringing her talents back home with a fresh take on grooves you're bound to know and love— from pop, R&B, to reggae and jazz. Influenced by the likes of Amy Winehouse and Beyoncé, her performance style can be described as vibrant and soulful. Alongside her band, they strive to capture the ears of their audience and make it almost impossible to sit still.




7:31-9pm
Hours: The museum is currently open to the public until 10 pm on Friday nights.
Entry: Admission during Art After Dark is $10 for Adults & Seniors, $5 for Students. Tickets may be purchased at the Reception Desk or reserved in advance.
How to get here: The Norton Museum of Art is located at 1401 S. Dixie Hwy., West Palm Beach, FL 33401. For more information, click here.
Parking: Parking is available in the Norton's main parking lot at 1501 South Dixie Highway, immediately across the street from the Museum. Parking is $5 per car, per day. Norton Members park for free.
Food and drink: The Restaurant at the Norton offers indoor and outdoor seating with beautiful views of our Sculpture Garden. Along with great food, The Restaurant serves creative cocktails, wine, and champagne. Reservations available through Tock.
Art After Dark is made possible by the generosity of The Cornelia T. Bailey Foundation, with additional support provided by the Addison Hines Charitable Trust.
Support for Open Studio was provided by The Mr. and Mrs. Lewis Schott Endowment for Education.