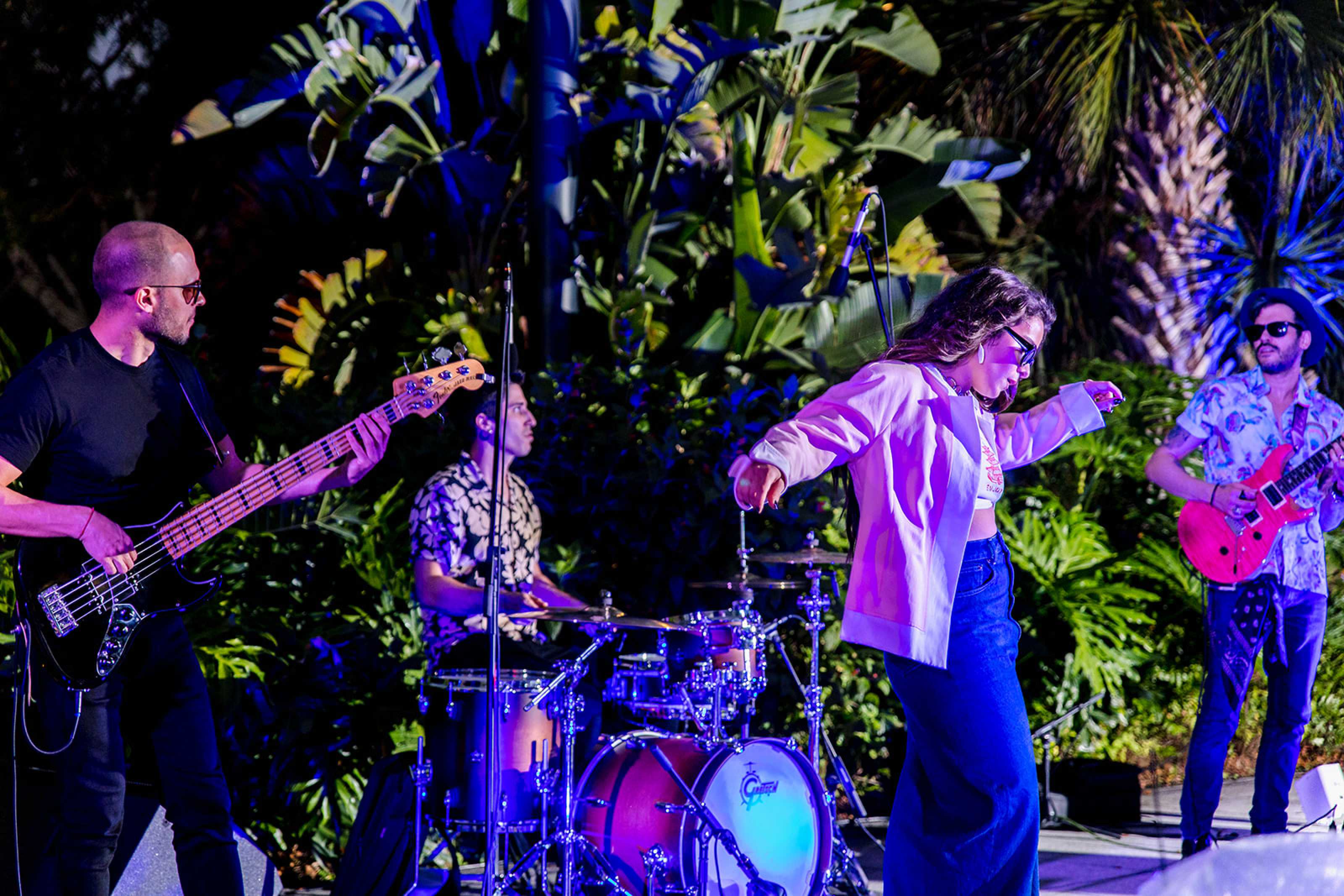 A New Experience Every Friday Night!
Enjoy an eclectic mix of live performances, film screenings, workshops, tours, and more!
EVERY FRIDAY, 5:30 & 7 PM
Docent-led Tours (30 min) Explore great works in the Norton's collection led by one of the Museum's fine docents.
EVERY FRIDAY, 6 – 9 PM
Open Studio: Art Workshops Join local teaching artists as they lead drop-in style art-making sessions. All ages and experience levels welcome. Materials included.
EVERY FRIDAY, Live Performances
Enjoy live performances every Friday including live music, dance, spoken word, and more! Check our website weekly for updates.
First Fridays of the Month, 7:30 pm / Jazz Fridays
This popular monthly series features performances by some of South Florida's best jazz musicians!
Third Fridays of the Month, 8 pm / Artist Tour
South Florida-based artists lead informal, 30-minute gallery talks about works in the Norton's collection and special exhibitions.
Art After Dark / Jazz Friday
Friday, December 1 / 5PM-10PM
Join a tour!

Docents discuss artworks in the Norton's collection. Pick up your tour wristband at the Reception Desk one hour before the tour.

5:30-6pm

Curator Conversation with Laurie Barnes

Join Laurie Barnes, Elizabeth B. McGraw Senior Curator for Chinese Art for a discussion of Symbolic Messages in Chinese Animal Paintings.

Explore the emblematic ideas expressed in four hanging scrolls that reveal much about the social and cultural history of one of the world's greatest civilizations.

6-7pm

Open Studio

Decorate a Hamsa Hand with Resident Teaching Artist Lymari Cuevas. The Hamsa Hand is a universal sign of protection, power, and strength that dates back to ancient Mesopotamia. Known alternately as the Hand of Fatima in Islam and the Hand of Miriam in Judaism, the Hamsa Hand also appears in Hinduism, Buddhism, and Christianity. Facing downwards, the hand symbolizes abundance and prosperity, inviting good things into your life. Facing upwards, it acts as a talisman against evil and your own negative feelings.

6-9pm

Join a tour!

Docents discuss artworks in the Norton's collection. Pick up your tour wristband at the Reception Desk one hour before the tour.

7-7:30pm

Live Music / Klezmer Company Jazz Orchestra

Hanukkah in SwingTIME

Klezmer Company Jazz Orchestra will perform traditional well known Hanukkah, Klezmer, and Yiddish songs in a swing style with a jazz feel. The concert will appeal to all ages and anyone who loves dance music with a twist. This is a holiday concert to celebrate the 8 days of Hanukkah.

Klezmer Company Jazz Orchestra (KCJO) is a cross genre ensemble that defies classification. KCJO continues to evolve by embracing tradition and imagination with a roster of accomplished jazz musicians. Founded by Aaron Kula, KCJO debuted in 1997 with a mission to re-imagine ethnic folk music.
In 2009, KCJO released its award winning CD Beyond the Tribes, which was selected in 2011 by the Library of Congress (LOC) for inclusion in the Copyright Acquisitions Division. The LOC cited this recording as representative of an important American culture that would "enrich the collections." In 2012, the band released its second studio album Klezmerology and in March 2016 released their third album called JubanoJazz, celebrating the fusion of Latin Jazz and vintage American Klezmer melodies. From 2011 to 2014, Kula led KCJO on concert tours to California, Arizona, and Rhode Island. In 2015 KCJO was invited to perform in Canada at the Ashkenaz Festival in Toronto and Montreal Jewish Music Festival. In 2018 the band collaborated with the Grammy winning Latin Jazz flutist Nestor Torres.

FOR MORE INFORMATION: https://www.klezmercompany.com/

Great Hall

7:30-9pm
Hours: The museum is currently open to the public until 10 pm on Friday nights.
Entry: Admission during Art After Dark is $10 for Adults & Seniors, $5 for Students. Tickets may be purchased at the Reception Desk or reserved in advance.
How to get here: The Norton Museum of Art is located at 1401 S. Dixie Hwy., West Palm Beach, FL 33401. For more information, click here.
Parking: Parking is available in the Norton's main parking lot at 1501 South Dixie Highway, immediately across the street from the Museum. Parking is $5 per car, per day. Norton Members park for free.
Food and drink: The Restaurant at the Norton offers indoor and outdoor seating with beautiful views of our Sculpture Garden. Along with great food, The Restaurant serves creative cocktails, wine, and champagne. Reservations available through Tock.
Art After Dark is made possible by the generosity of The Addison Hines Charitable Trust.
Support for Open Studio was provided by The Mr. and Mrs. Lewis Schott Endowment for Education.