Michael Blackwood Film Series
Michael Blackwood founded Blackwood Productions Inc. in 1966 with a vision to create compelling documentaries about leading figures in contemporary culture spanning art, music, dance, history, science, and architecture. Blackwood rarely used narration and never allowed the filmmaking to compete with his subjects.
"There are no film portraits in existence of the artists of the early [twentieth] century... it seemed urgent to build up a documentation of the New York art scene as it developed around me. I therefore set out to record on film, with synchronous sound, the artists, their work and their ideas, on the spot and at the height of their careers."
The recipient of a host of awards, in 2010 Blackwood became a fellow of the American Academy of Arts and Sciences.
The Norton presents three of his films, each followed by a virtual post-screening Q&A.
$15 Member / $30 Non Member tickets
Monday, November 9 / 2pm
Robert Rauschenberg: Retrospective, 1979, 45 min.
Directed by Michael Blackwood
Produced by Michael Blackwood Productions
Visit Website
Q&A led by Cheryl Brutvan, Director of Curatorial Affairs / Glenn W. and Cornelia T. Bailey Curator of Contemporary Art
About This Film
Watching Robert Rauschenberg interact with his own work, from its early stages to a finished product, is to understand how much of himself he places into his art. Noting that in his first attempts at painting, he used his own hands as opposed to a brush, Rauschenberg expresses to us his need create and be present within his work. Rauschenberg explains how he strays from specific images or items that may isolate his audience and focuses on commonly seen content. Much like his relationship with the materials he finds himself working with, Rauschenberg wants those viewing his pieces to create a spur of the moment connection. He feels as though anything preconceived, whether it be materials or interpretations, throws off the authenticity of art.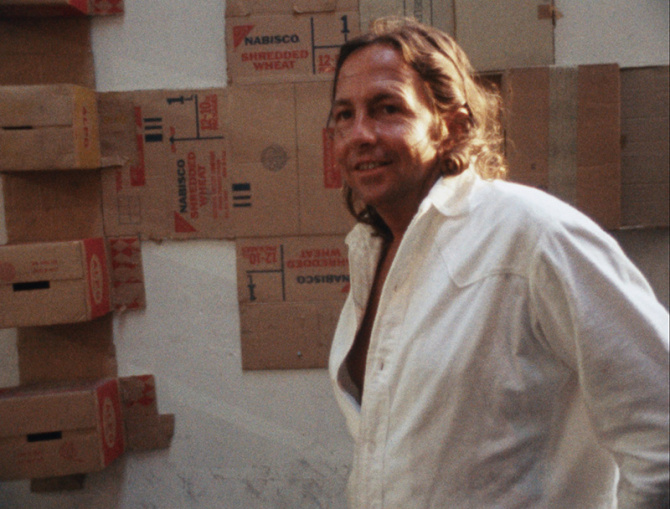 Film still from Robert Rauschenberg: Retrospective by Michael Blackwood