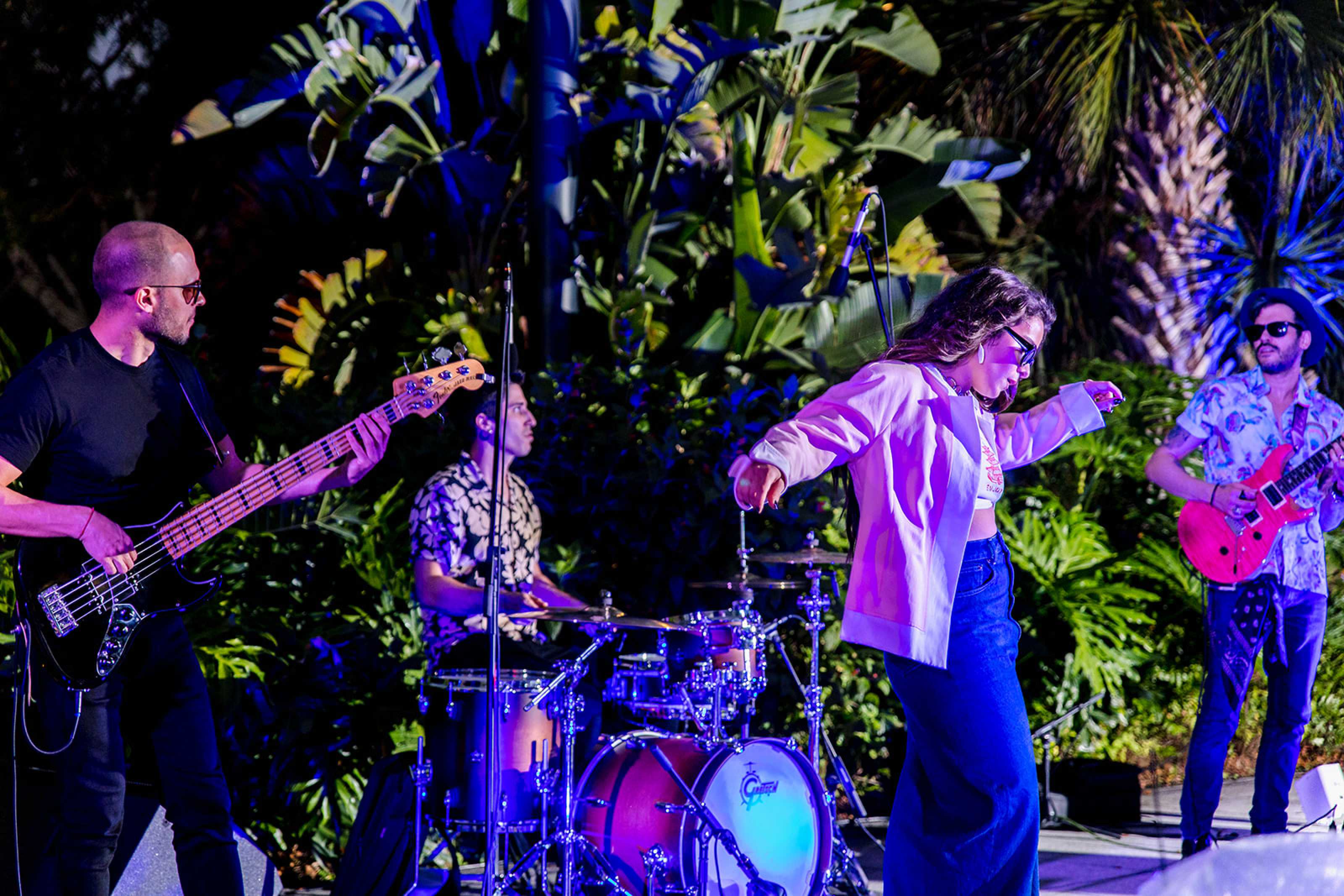 A New Experience Every Friday Night!
Enjoy an eclectic mix of live performances, film screenings, workshops, tours, and more!
EVERY FRIDAY, 5:30 & 7:30 PM
Docent-led Tours (30 min) Explore great works in the Norton's collection led by one of the Museum's fine docents.
EVERY FRIDAY, 6 – 9 PM
Open Studio: Art Workshops Join local teaching artists as they lead drop-in style art-making sessions. All ages and experience levels welcome. Materials included.
EVERY FRIDAY, Live Performances
Enjoy live performances every Friday including live music, dance, spoken word, and more! Check our website weekly for updates.
First Fridays of the Month, 7 pm / Jazz Fridays
This popular monthly series features performances by some of South Florida's best jazz musicians!
Third Fridays of the Month, 8 pm / Artist Tour
South Florida-based artists lead informal, 30-minute gallery talks about works in the Norton's collection and special exhibitions.
Art After Dark / Jazz Friday
Friday, June 2 / 5PM-10PM
Join a tour!

Docents discuss works in the galleries and special exhibitions.

Pick up your tour wristband at the Reception Desk one hour before the tour.

5:30-6pm

Open Studio with Guest Teaching Artist Pamela Solares

Inspired by the original Rider-Waite-Smith tarot deck illustrated by Pamela Colman Smith, currently on view in the At the Dawn of a New Age special exhibition, design your own tarot card with guest teaching artist, Pamela Solares.

Pamela Solares is a multidisciplinary artist based in Broward County, Florida, who is also the Norton's 2023 Sophie Davis Fellow for Inclusion, Diversity, Equity, and Access. You can find her artwork online at www.studiosolares.com.

6-9pm

Swing Dance Class

Swing Dance Class with Martin Pena & Tracey-Ann Jarrett.

6:30-7:30pm

Live Music / Swing All Stars

The award-winning Swing All Stars are known as the leading South Florida based swing band, renowned for bringing together swing dancing with great live music. Created and led by bassist and bandleader Paul Shewchuk in 1999, the Swing All Stars feature a collective of top professional vocalists and musicians. In fact, each member is a nationally recognized artist.

7-8:30pm

Join a tour!

Docents discuss artworks in the Norton's collection. Pick up your tour wristband at the Reception Desk one hour before the tour.

7:30-8pm
Hours: The museum is currently open to the public until 10 pm on Friday nights.
Entry: Admission during Art After Dark is $10 for Adults & Seniors, $5 for Students. Tickets may be purchased at the Reception Desk or reserved in advance.
How to get here: The Norton Museum of Art is located at 1401 S. Dixie Hwy., West Palm Beach, FL 33401. For more information, click here.
Parking: Parking is available in the Norton's main parking lot at 1501 South Dixie Highway, immediately across the street from the Museum. Parking is $5 per car, per day. Norton Members park for free.
Food and drink: The Restaurant at the Norton offers indoor and outdoor seating with beautiful views of our Sculpture Garden. Along with great food, The Restaurant serves creative cocktails, wine, and champagne. Reservations available through Tock.
Art After Dark is made possible by the generosity of The Cornelia T. Bailey Foundation, with additional support provided by the Addison Hines Charitable Trust.
Support for Open Studio was provided by The Mr. and Mrs. Lewis Schott Endowment for Education.