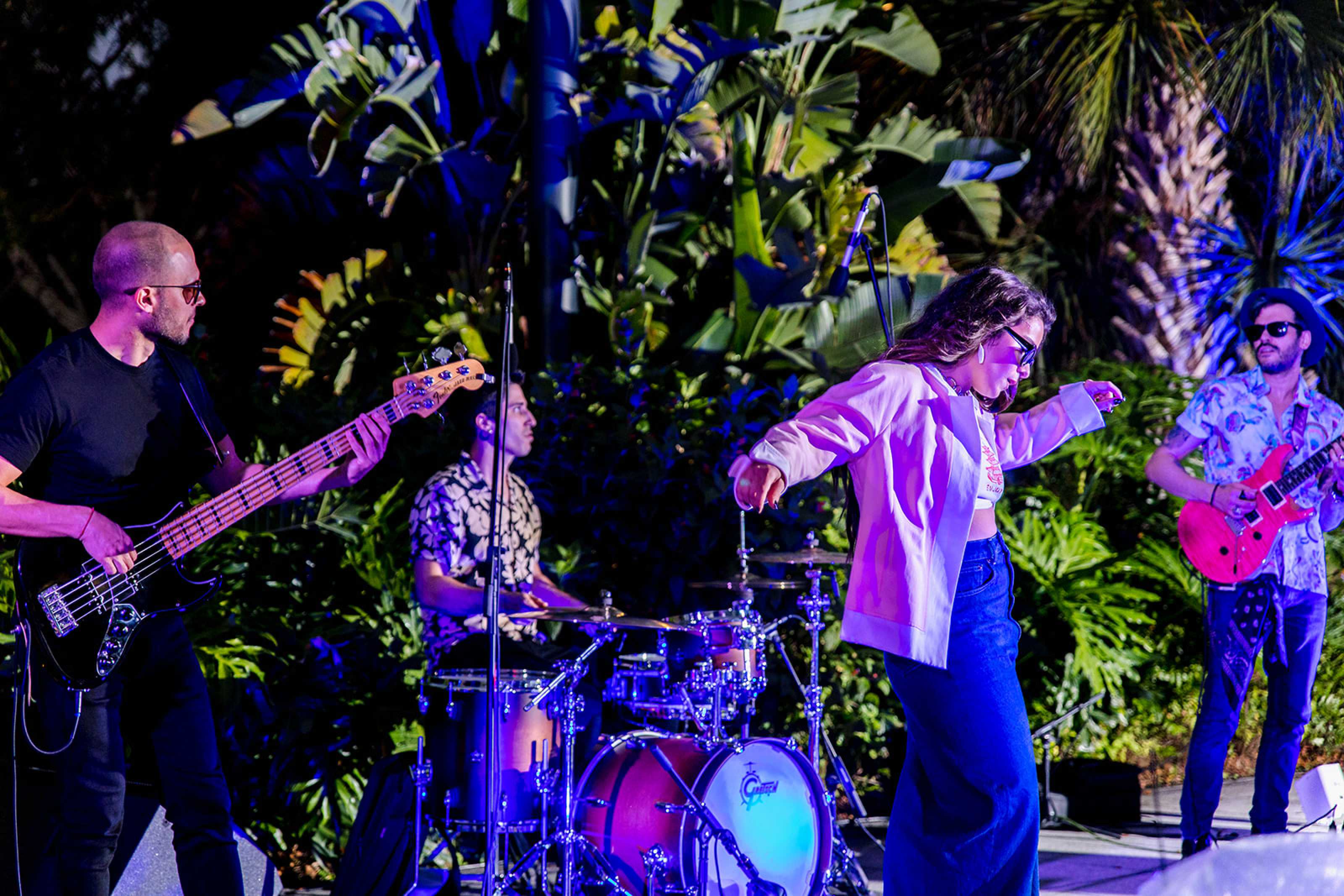 A New Experience Every Friday Night!
Enjoy an eclectic mix of live performances, film screenings, workshops, tours, and more!
EVERY FRIDAY, 5:30 & 7:30 PM
Docent-led Tours (30 min) Explore great works in the Norton's collection led by one of the Museum's fine docents.
EVERY FRIDAY, 6 – 9 PM
Open Studio: Art Workshops Join local teaching artists as they lead drop-in style art-making sessions. All ages and experience levels welcome. Materials included.
EVERY FRIDAY, Live Performances
Enjoy live performances every Friday including live music, dance, spoken word, and more! Check our website weekly for updates.
First Fridays of the Month, 7 pm / Jazz Fridays
This popular monthly series features performances by some of South Florida's best jazz musicians!
Third Fridays of the Month, 8 pm / Artist Tour
South Florida-based artists lead informal, 30-minute gallery talks about works in the Norton's collection and special exhibitions.
Art After Dark / Pride Night
Friday, June 23 / 5PM-10PM
Join a tour!

Docents discuss works in the galleries. Or substitute with specific tour themes/routes.

Pick up your tour wristband at the Reception Desk one hour before the tour.

5:30-6pm

Open Studio

Join Resident Teaching Artist Aurora Rincon to create a piece of art based on the work of Keith Haring.

6-9pm

Live Music / Singer/Songwriter Lindsey Mills and Spoken Word Artist Terese "Chunky" Hill

Lindsey Mills is a multimedia creatrix, DJ, bassist of indie rock band Surfer Blood and intuitive tarot reader. Her work as a singer-songwriter draws inspiration from diverse sources - ranging from Ella Fitzgerald to Joni Mitchell to Janelle Monae - while always maintaining a strong flavor of her native Florida.

Terese "Chunky" Hill is acknowledged as one of the prolific voices of our time. This Nationally known spoken word artist has the ability to hold and comfort her audience by delivering heart felt passion through words, provoking the listener to feel inspired and uplifted. Using the gift of speech to draw a vivid picture of culture and diversity that is touchable reality. Terese is a public servant. Severing as a Law enforcement officer for over ten years she has combined poetry and the law into a prophetic mixture. She has captured the ability to voice personal life experience, societal blues, sexuality, and world issues into a soulful gospel of good news, by using the universal language of poetry.

7:30pm-9am

Join a tour!

Docents discuss artworks in the Norton's collection. Pick up your tour wristband at the Reception Desk one hour before the tour.

7:30-8pm

Join an Artists Tour with Rolando Chang Barrero!

Rolando Chang Barrero (1962- ), is an America born artist and graduate of the School of the Art Institute of Chicago 1990 where he was awarded the Reyerson Fellowship. Recent invitational engagements include The Ringling Museum and The Norton Museum of Art. Recently awarded The Cultural Council of Palm Beach Muse Award for Outstanding Cultural Leadership

Rolando Chang Barrero is an experimental media artist, a visionary, a cultural leader, and an arts advocate for over 40 years




8-8:30pm
Hours: The museum is currently open to the public until 10 pm on Friday nights.
Entry: Admission during Art After Dark is $10 for Adults & Seniors, $5 for Students. Tickets may be purchased at the Reception Desk or reserved in advance.
How to get here: The Norton Museum of Art is located at 1401 S. Dixie Hwy., West Palm Beach, FL 33401. For more information, click here.
Parking: Parking is available in the Norton's main parking lot at 1501 South Dixie Highway, immediately across the street from the Museum. Parking is $5 per car, per day. Norton Members park for free.
Food and drink: The Restaurant at the Norton offers indoor and outdoor seating with beautiful views of our Sculpture Garden. Along with great food, The Restaurant serves creative cocktails, wine, and champagne. Reservations available through Tock.
Art After Dark is made possible by the generosity of The Cornelia T. Bailey Foundation, with additional support provided by the Addison Hines Charitable Trust.
Support for Open Studio was provided by The Mr. and Mrs. Lewis Schott Endowment for Education.