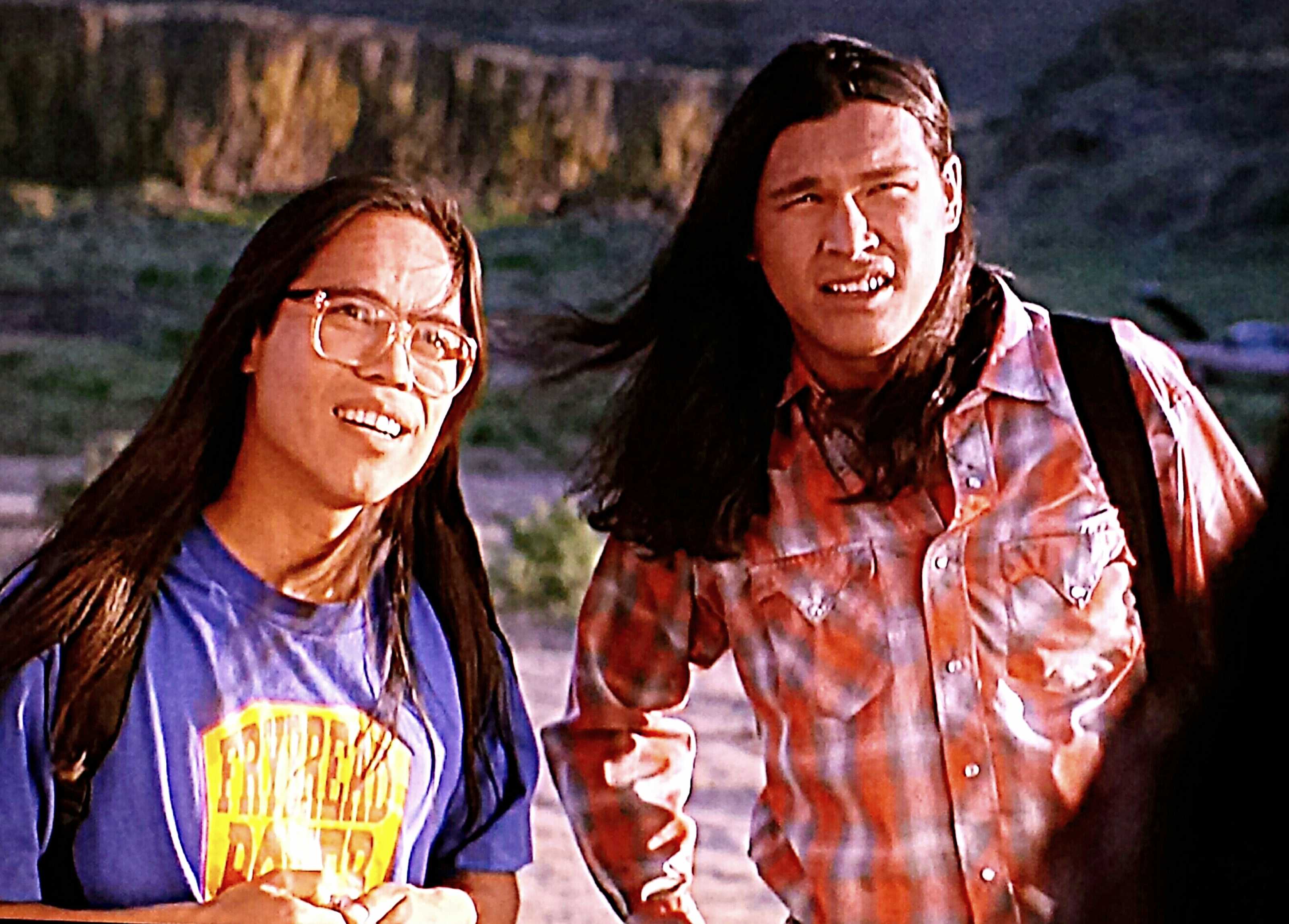 A New Experience Every Friday Night!
Art After Dark mixes art and entertainment every Friday night! Enjoy live performances, film screenings, art workshops, and more. Programs are currently being presented both in-person and online.
Friday, November 26 / 5-10pm
Art After Dark / Smoke Signals
Tour

Explore great works in the Museum collection led by one of the Museum's fine docents.

5:30-6pm

Open Studio / Ingrid Sanchez

This Open Studio will feature a fun introduction to weaving inspired by the Navajo and Pueblo peoples. Visitors will receive a cardboard loom and will be able to choose the materials to weave. The artist will provide instructions on how to weave as well as examples of different designs.

About the artist: Ingrid Sanchez creates prints, drawings, and installations that examine cultural and linguistic hybridism as a method of adaption and survival. In her ongoing project  Fragmentos, she intervenes walls with graphic and organic imagery arranged in mosaic-like collages. Reminiscent of building façades in Latin America, the work references different forms of visual expression that transpire in public space, such as contemporary graffiti and colonial-era baroque design

All Materials are included. Open to all ages and levels of artistic talent!

6-9pm

Film / Smoke Signals (1998)

Smoke Signals "Smoke Signals," marketed by Miramax as "the first feature film written, directed, and produced by Native Americans," was a critical success and crowd favorite from its debut at the Sundance Film Festival in 1998, winning the Filmmaker's Trophy for director Chris Eyre and the Audience Award there before its theatrical release that summer. Two decades years later, it's not hard to see why "Smoke Signals" resonated: The movie is filled with humor, heart and genuine affection for its characters, hitting notes of sadness, introspection and well-earned catharsis." - Variety

Smoke Signals screening will be outdoors in the Museum's garden. In case of inclement weather, the film will be shown in the Stiller Auditorium.

6:30-8pm

Tour

One more chance to explore great works in the Museum collection with one of the Museum's fine docents.

7:30-8pm

Concert / Brett Staska

"Emerging from the swamps of Loxahatchee, Brett Staska is a Florida-based multi-instrumentalist and singer-songwriter. His signature style, "sunburnt folk-rock," combines a unique blend of sounds, ranging from rhythm and blues, country western, and roots reggae. He draws inspiration from his love of surfing, travel, and the life-altering experiences that both have brought his way." - Brett Staska

8:15-9:45pm
Hours: The museum is currently open to the public until 10 pm on Friday nights.
Entry: Please note daily capacity is limited and advance, timed-ticket reservations are encouraged to help ensure a safe and enjoyable visiting experience for all. To attend in-person Art After Dark programs, reserve a timed ticket.
COVID-19 Policies: Guests (ages 12+) visiting the Norton Museum of Art will be required to show proof of a negative COVID-19 professionally administered PCR test taken within 72 hours; or a negative COVID-19 Antigen Rapid Test conducted within 24 hours; OR voluntarily show proof of COVID-19 vaccination (together with a valid photo ID for ages 18+). To learn more about our Covid-19 policies, click here.
How to get here: The Norton Museum of Art is located at 1401 S. Dixie Hwy., West Palm Beach, FL 33401. For more information, click here.
Parking: Parking is available in the Norton's main parking lot at 1501 South Dixie Highway, immediately across the street from the Museum. Parking is $5 per car, per day. Norton Members park for free.
Food and drink: The Restaurant at the Norton is fully operational, with new menu items inspired by fine Mexican cuisine in honor of our upcoming exhibition, Frida Kahlo, Diego Rivera and Mexican Modernism from the Jacques and Natasha Gelman Collection. Seating available outdoors with a view of our Sculpture Garden and in the Restaurant. Along with great food, The Restaurant can be enjoyed with creative cocktails, wine, or champagne. Reservations recommended at OpenTable.com
Admission: Art After Dark is included with museum admission. As always, members enjoy free museum admission.